Slapshots in Paradise
Inline hockey is growing in popularity in Hawaii, and the state's best will be on display this weekend in Mililani

Wednesday - June 10, 2009
By
.(JavaScript must be enabled to view this email address)
E-mail this story | Print this page | Archive | RSS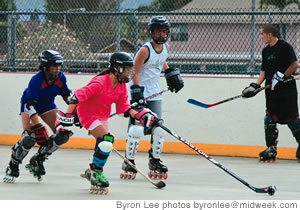 Breanna Nikora, Bobbie Iwamoto and Noah Cullen work the puck during a recent practice
There's not much chance that Mililani would get confused with Montreal when conversation turns toward hockey hotbeds. The planned community in the center of Oahu, while offering much to its residents, lacks the 23 Stanley Cup titles necessary to be a serious contender in such a contest. Ice is another thing the capital of Quebec has over our western hockey outpost. But beginning June 12, Mililani will do its best as Kaoma'aiku Neighborhood Park, aka 10 Acre Park, plays host to the 2009 USA Hockey Inline Summer Showdown, where 23 teams from nearly every island will vie for the state inline hockey title.
The contest, put on by the Mililani Inline Hockey Association and USA Hockey, the same folks who clothe and coach Team USA in the Olympics, is the top local tournament for players aged 5-18. The success of the tournament and of the sport in general has led to a greater demand on the few available facilities. Statewide there are only six rinks, with one being on Marine Corps Base Hawaii. During the season, rinks are booked from dawn to dusk.
"It's still relatively small compared to other sports, but it's growing," says Michael Barros, president of the Mililani Inline Hockey Association. "Mililani has maxed out the rink time, and there is more and more demand for adults."
Barros says the very nature of the sport makes it conducive to players at every level. In many sports, children who may be less-skilled or who are shy can often find themselves watching the action go by.
That's not really possible in hockey. The puck is constantly moving and, as Barros says, "The puck will find you."
There is very little down time, and the pacing is so quick that it leaves little time for young minds to wander.
"Once you get out there, you will be involved. It's fast. The kids love it, and it's fun to play," he adds.
Inline hockey, or roller hockey, is nearly identical to its ice-bound cousin, with only minor differences in players (four to a side rather than five), surface (of course) and a few rules that most parents wouldn't even know existed - the most important of which is that this is a non-checking league, which means the players can't turn the game into a demolition derby. This, no doubt, is good news for concerned parents worried about signing up their children for a sport long identified with scars and broken teeth. After all, Rodney Dangerfield never quipped that he went to a boxing match and a U12 soccer game broke out.
"I've seen very few injuries over the years," says Barros. "They have enough gear. Once they (parents) see the kids fall down several times and get back up, they're not worried. As long as you keep the gear on, they're fine. It's physical and it's fast. It's not as physical as ice hockey, but there is still body contact so they have to wear the gear: helmets, elbow pads and shin guards."
The cost of playing inline hockey is comparable to other sports. To fully equip their child and to pay for league fees, the parents' total investment is in the neighborhood of $200. Of course, that can go up depending on the type of skates or sticks used.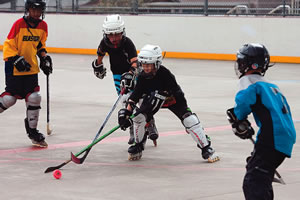 Atilla Gooden defends Travis Eichner as TJ Mamea (left) and Kimo Chun look on
Though the sport came to most people's attention in the 1990s, its origins go back to Montreux, Switzerland, where the International Roller Sports Federation was founded in 1924. It took several decades before the old quad skates were replaced by the inline variety, but interest continued to a point where, in 1992, it was included as a demonstration sport at the Olympic games in Barcelona and became a participation sport in the Pan Am Games. While annual world championships have been contested for years, Barros isn't making arrangements for Karlstad, Sweden, in 2010 - at least not yet. But the local kids are getting better.
"We participated in a national tournament last year, in San Jose," Barros says. "Several teams went and they did rather well. Our 18 and under in the silver division took third overall. We had a 14 and under in the club division that took first. We're getting there. The kids did real well."
A third group of players age 12 and under also competed but didn't make it into the final round.
Barros, like most of the parents, got involved when his son started playing. Barros knew nothing of the sport, but through books and the Internet he figured out enough to become a coach.
"My son Elisha, when he was 8 years old, he saw a sign on the road, and he wanted to play. I had never heard of it and that was 10 years ago. Once he started playing hockey, he didn't want to play anything else. Now all my kids are playing."
The family's involvement in the sport has grown to the point where subscribing to the NHL channel became a must. His second son, 15-year-old Benjamin, is a goalie who watches the network as if studying for an exam. The family even managed to take in a Capitals' game during a family vacation to Washington, D.C.
"At first I had no interest in hockey," admits Barros, "and now I just love it."
The children's participation has done more than kindle a passing interest among their parents and older siblings. It's forced them onto skates themselves.
"A lot of the coaches learned how to skate to teach the kids. They end up playing as adults, and we had to create two adult divisions, A and B. They are chomping at the bit to play. After we finish our tournament, we'll open it up to adults."
This, of course, adds to the problem of playing time. The demand for rinks is larger than the supply.
But help is on its way. Richard Pentecost, the managing member of Pentecost Hawaii LLC and president of the Oahu Inline Hockey League, is building an indoor, double-rinked facility in Kapolei scheduled to open in December or January. The New Caledonia native, who graduated from the University of Hawaii in 1984, got the idea of building the facility after experiencing firsthand the differences between Hawaii's rinks and those on the Mainland.
"My two sons got involved in roller hockey," says Pentecost. "We used to go to the Mainland to play in tournaments, and we were just getting killed. That was the bottom line. I thought, it's silly to spend thousands of dollars, go to the tournaments and not bring back a medal."
In 2005 he figured it was up to him to create a place where Hawaii's keiki could learn to be competitive. Called KIHA - Kapolei Inline Hockey Arenas - the facility will be much more than just a rink with a roof. In time, Pentecost hopes it will be an all-inclusive arena that will not only attract local athletes but teams from the Mainland as well.
"We are going to hire a hockey director from the Mainland to run the facility," he says. "The director also will market the sport, create new divisions, and hold clinics for coaches, players and referees."
The air-conditioned arena will have eight locker rooms and space for a pro shop and concession stand.
"This facility will compete with the best facilities on the Mainland," promises Pentecost.
The tournament begins Thursday with a referees and coaching clinic hosted by USA Hockey, which also is bringing in referees, a director and is supplying banners for the winning teams and medals for all first- and second-place finishers. The puck drops Friday for two days of pool play with the winners advancing to the championship games on Sunday. There are six age groups, with each team guaranteed to play at least three games. Play begins at 8 a.m. and goes virtually nonstop until 9 p.m.
Page 1 of 1 pages for this story
Most Recent Comment(s):