Just horsing Around
With a 'giddy-yup!' MidWeek's intrepid reporter heads to Gunstock Ranch to reacquaint herself with the joys of riding a horse, and the cool places they take you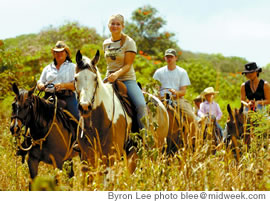 From left, Ronda Baker, Charity Elord, Erik Anderson
and the author Top photo, in headline pointing, is
Greg Smith
I'm on horseback for the first time since I was 7 years old, which in itself qualifies me as a non-expert on horses. But halfway through this trail ride I start to grasp why Bobbie, my 900-pound companion with the slender white star on her forehead, is lovingly known at Gunstock Ranch as a matriarch - and a grump.
At around 18 years old, Bobbie has bred 10 foals for the North Shore ranch, and could easily be described as mellow. She does-n't buck to get me off her back. When I pull on the right side of the rein and kick on the left side of her body, she turns right, as desired; same for left turns, and for stopping. And like the bunch of horses along for the group ride last Saturday, Bobbie seemed to direct herself - going forward when others went forward and stopping when others stopped.
Her form of grumpiness has to do with other horses - she's pretty adamant at keeping them at bay (her black-trimmed ears perk up when they invade her space). And although at times this trait made it tough for me to talk with the other riders in the group - for instance, while resting under a shady tree, each time ranger Ronda Baker steps her horse near to talk, Bobbie takes as many steps away - it is a little endearing that Bobbie has a mind, and a personality, of her own.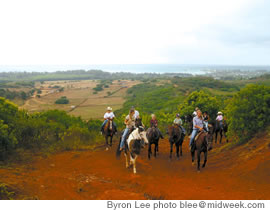 Getting a little saddle sore is worth it for the fantastic
views
"It's like she's getting grumpy as she gets older," says Kyndra Smith, a part-owner of the family-owned ranch in Laie. "She used to be solid, nothing bothered her, just go along. Now she doesn't like it when people stand next to her. ... But otherwise she's fine!"
After trying our hands at cattle driving, which went off without a hitch, the horses carried us at a trot by dirt trail to a mountainside lookout to enjoy the view and a rest. Here, a grill hangs over a hole in the ground, lined around the rim with stones, where rangers cook burgers and meals over a fire for patrons who take the four-hour lunch ride.
On a recent Saturday, our group got a taste of a shorter version of the 90-minute scenic and sunset rides, both of which Kyndra's husband, Greg, recommends for new riders.
"Once you're a little more comfortable on a horse, the moonlight ride is a lot of fun," he says. "I always tell the guys: 'If you want to score points with the ladies, it's real romantic. You want to go on a fun date, take your lady on a moonlight ride.'"
At the lookout we tickle our stomachs with slices of warm, sweet oranges with green rinds, which were picked along the way by ranger Charity Elrod.
Elrod, perched some five feet up atop a 1,000-pound horse, didn't require a ladder to collect the fruit from the tree. She simply scooted forward on her four-legged friend and picked them off. The result was happy kids whose smiles revealed remnants of their treats - green rinds tucked inside satisfied lips.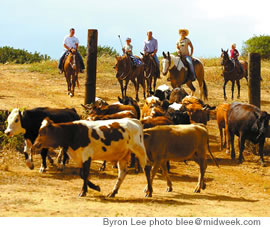 Driving cattle: Gunstock is a working cattle ranch
Gunstock Ranch, a working ranch on about 300 acres of leased land in Laie, holds rodeo competitions, raises cattle for beef, owns 40 horses and boards about 40 horses for others. The trail rides, Kyndra says, make the ranch unique.
And the view is spectacular. From this lookout, Greg says, you can see whales spouting in the ocean below. On a clear day "you can see the whole Windward side," says Greg, whose dad, Max, a third generation rancher and a member of the Paniolo Hall of Fame, started Gunstock Ranch more than three decades ago.
Last Saturday, Greg and Kyndra brought their kids along for the ride: 15-month-old Jayden, who shared a horse with his mom, and 3-year-old Kayla, who rode solo, as did Tanner, Jessica and 9-year-old Lorrie Ann, who wore a shiny 2006 championship belt for barrel racing. Family friends Kellie Carlson and Erik Anderson, who are engaged, came along, as I did, as pretty much first-time riders.
Anderson recalls the last time he rode horseback happened while earning a horsemanship merit badge in Boy Scouts. "You actually get on the horse, and then you walk a couple paces and walk back and you get off," he says.
Saturday's trail ride, however, was something to write home about. "The horse pretty much (does) everything, I didn't have to do much," he says. "It'll be exciting to tell my grandmother, she used to have a horse."
While the riders had our snack and water, treats for the horses awaited them at home base. Maybe sensing refreshments ahead, a horse snorts a vibratory exhale as Kyndra announces a call to head back: "OK, guys, let's saddle up. Move 'em out!"
For more information, go to http://gunstockranch.com
Page 1 of 1 pages for this story
Most Recent Comment(s):