Kings of Chess
Meet Hawaii's newly crowned chess co-champions, Chet Gionson and Cornelius Rubsamen, who are quite serious about the game but play mostly because it's fun
Wednesday - October 05, 2005
By
.(JavaScript must be enabled to view this email address)
E-mail this story | Print this page | Archive | RSS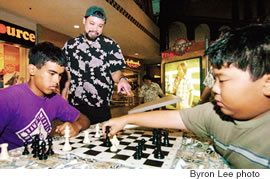 Chet Gionson helps Makaio Krienke and Kapena
Lum
Checkmate! The Hawaii Chess Federation recently crowned two State Open co-champions - Chet Gionson and Cornelius Rubsamen.
The two chess masters tied for first in the 2005 State Open Chess Championships, after playing five games in three days at the Outrigger Ohana East Hotel. Forty-two of Hawaii's top adult and youth players entered the tournament, but in the end it was Gionson and Rubsamen who called it - checkmate!
But how, you ask, can there be two kings of chess?
"It just worked out that they didn't have to play each other," explains Randy Prothero, president of the Hawaii Chess Federation. "They wound up with the same score at the end of the day.
"And the reason we didn't have them go up against each other to break the tie is that these games can take up to four hours, and we're at a playing facility where we don't have another four hours."
The two chess wizards will eventually match up, though, as only one of the co-champions can be eligible to compete against other state champions to qualify for entry into the United States Championship.
"We may have them do a match to decide who goes," says Prothero.
Gionson, 41, was also named the Hawaii Chess Federation's 2004 Volunteer of the Year for his work at the Pearlridge Center Chess Club.
Gionson, who has been playing chess "seriously" for 16 years, learned the game on his own.
"I saw that movie Searching For Bobby Fischer
and it just inspired me to want to learn," he says. "I bought some books on chess, and I played off and on as a kid, so I kind of knew how to play."
Gionson, a caregiver, admits to playing online chess every day. He also plays in person whenever he has time.
"Instead of going to the bar, I play chess," he says. "I like it because it keeps my brain active. Instead of physically working out, it's a mental workout. And I like that every game is always different.
"Also, you meet a lot of people from different backgrounds at these chess clubs and over the Internet."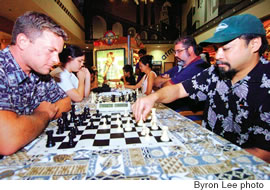 State Open co-champions — Cornelius Rubsamen
and Chet Gionson — go head to head at Pearlridge
Rubsamen, who is the director of training at the Mililani Chess Club, also won the State Speed Chess Championship, which preceded the main tournament. He won 12 out of 14 games of speed chess, in which each player has just five minutes for the entire game.
"Rubsamen's two titles (Speed Chess Champion and State Open Co-Champion), added to his July 4 State Rapid Chess Championship victory, complete the Triple Crown of Hawaii chess," adds Prothero.
Page 1 of 2 pages for this story 1 2 >
Most Recent Comment(s):