Learning The Ropes
Dangling 42 feet above the ground at Camp Erdman's 'ropes course,' the author steps into space and beyond her own fears while learning to work with and trust others

Wednesday - September 13, 2006
By
.(JavaScript must be enabled to view this email address)
E-mail this story | Print this page | Archive | RSS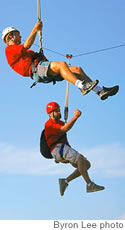 Tim Nalder and Josh
Heimowitz
Iwas 13 years old again, my stomach nearly in my mouth, my head light and spinning, my senses in a blur as I prepared to take the 40-foot plunge off a bridge into the river. But this time I'm not jumping. I am on a platform connected to safety harnesses, and I'm about to step out onto a thin cable 42 feet above the ground.
Thus began my adrenaline-pumping welcome to YMCA Camp Erdman's "ropes course" aka the Alpine Tower Odyssey III Challenge.
I barely knew what to expect when I set out recently with a dozen family, friends and coworkers for Camp Erdman, a place I'd heard my kids talk about after outings in their elementary school days, but had never personally visited in my 30 years on the Island. After zipping east on H-1, then north on H-2, we reached Farrington Highway, where we drifted past acres of farmland, past an air show of glider planes and paragliders, finally arriving at Camp Erdman's little Eden of pristine beaches, green mountains and happy children at play.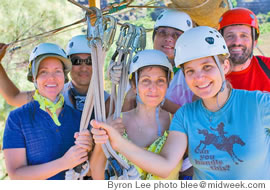 The author, right in blue shirt, with (from left) Liza Lee,
Kelly Lee, Dineh Davis, Linda Dela Cruz and Josh
Heimowitz
Pulling into the parking area, we were greeted by a monstrous structure of towering wooden posts connected by criss-crossing cables.
"When I first saw the course, I didn't want to look at it," said MidWeek's Linda Dela Cruz. "I was like, oh, we're going on that thing? Yikes!"
As the group put on sneakers and sunscreen (both a must), we were greeted by our most hospitable host for the day, Josh Heimowitz, the camp's director, who whisked us off to an open field for a series of warm-up games to get us acquainted and get the group moving. The competent and friendly staff took charge and pretty soon we were absorbed in forming a square - you might think you've had that one down since preschool, but the folks at Camp Erdman gave it a whole new twist. We ran, crawled, laughed and argued our way through the morning until we were called to replenish ourselves with an impressive lunch spread.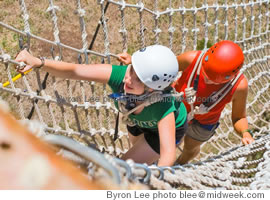 Kerry Miller and Stephanie Shardan head up
"They had great food," exclaimed MidWeek's Kerry Miller.
Even the vegetarians in the group walked away satiated with corn on the cob, rice with veggies, deluxe salad bar and bean burgers. We'd need all the energy we could muster for the challenge ahead.
"This course is probably the safest place in camp because of all the safety (precautions) that go into it," announced Heimowitz as we strapped harnesses around our waist and thighs, donned helmets and signed necessary forms. "We call this 'challenge by choice.'We ask that you challenge yourselves and take a couple steps past your comfort zone, and if you get there and it feels OK, take a couple more.
"You have a great opportunity today to learn about yourselves and how you work as part of this group. There's not a right or wrong way to get through this course. Depending on how well or how unwell you're working with each other, we may ramp up the challenge a little or we may ramp it down."
We split into two groups, one proceeding toward the 20-foot-high course while the rest of us stepped up to the cargo net of the 42-foot-high course. I had been itching for this moment for the past month. Hand over hand I shot up the net, then halfway up, I made a big mistake. I looked down. All that open space between me and the ground sent my head swimming. I hurried as fast as my frightened knees could carry me toward the platform above, eager for solid ground.
Our group, along with a couple of staff members, fit snugly together on the wooden platform. We were each connected by two safety latches to a steel cable above us. Heimowitz explained that there was nothing to fear, that everything on the course was built much stronger than needed.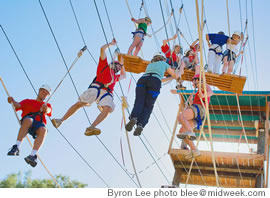 (from left) Tim Nalder, Josh Heimowitz, the author,
Stephanie Shardan, Sridevi Fournier, Manindra
Barnett, Mukunda Rivet, Kyra Bellrichard, Rad
Fournier and Lynn Weir
"The harnesses that you are wearing can hold up to 5,000 pounds, and the cables on this course are what they use to stop jets as they're landing on aircraft carriers."
We stepped to the edge, where several thin cables stretched out in front of us. "I can do this," I tried to convince myself, blood pounding in my head.
Then Josh broke it to us: We were not to hold onto our own ropes. The only support we would have as we stepped onto the wire would be each other. After all, the facility is touted as a team-building course.
We interlocked arms and prepared for the leap of faith, Heimowitz's voice soothing us forward. Then, all at once, the wall of humans jolted forward, and in a sudden flurry of jiggling terror, we were on the wire.
Curses and then prayers to Krishna, Buddha and Jesus, erupted from my mouth as we fought to keep steady. Heimowitz
Page 1 of 2 pages for this story 1 2 >
Most Recent Comment(s):