Lunch With The Ancestors
You'll never have a better time in a cemetery than at the Chinese festival Qing Ming, which makes ancestors the guests of honor at a feast
Wednesday - April 05, 2006
By
.(JavaScript must be enabled to view this email address)
E-mail this story | Print this page | Archive | RSS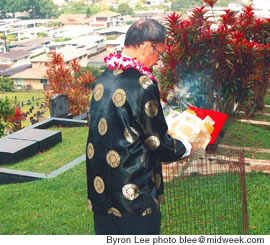 Lawrence Siu burning offerings of spiritual paper
money and a eulogy to the ancestors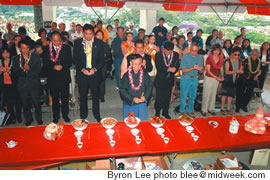 Henry Lee, executive director of the United Chinese
Society, leads the audience in the final offering of
incense to the grand ancestor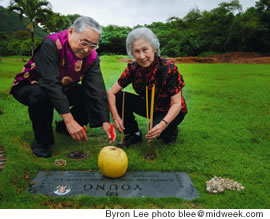 Jimmy Young and Jeanette Young pay respect to
George Young, Jimmy's brother and Jeanette's
husband
It's time to make a date with your ancestors. Throughout April (starting on April 5, except for leap years when it's on April 4), Chinese families around the world will gather at cemeteries to have lunch with their ancestors. It's a 3,000-plus-year tradition called Qing Ming (pronounced Ching Ming), where young and old meet at their ancestors' graves and offer wine, tea, fruits, ambrosial food, roast pig, flowers, and gold and silver ingots.
"According to the Analects of Confucius, you are to always provide the best funeral for your parents in their honor, and continue to honor them for the rest of your life and for generations to come," says Harry Wong, tri-chair of the Hawaii Chinese Qing Ming Celebration. "And may posterity flourish for generations to come."
Wong, along with Jimmy Young and Jeanette Young,under the guidance of the United Chinese Society, are the tri-chairs of the fourth annual Hawaii Chinese Qing Ming Celebration to be held on April 6 at the Manoa Chinese Cemetery.
About 400 people are expected to attend. The event is open to the public and begins at 9:30 a.m. Pre-ceremony activities include the release of rainbow pigeons, a military 21-gun salute, and the national anthem performed by Aaron Mahi.
"My brother, George Young, has organized the elaborate Ching Ming festivities for over 20 years," says Jimmy Young. "He was the president of the Manoa Chinese Cemetery, and when he died in 2001, the following year we didn't have one.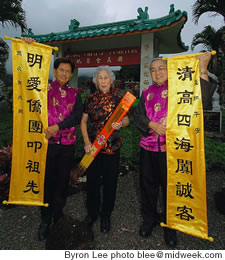 Harry Wong, Jeanette Young and Jimmy
Young serve as tri-chairs of the Fourth
Annual Hawaii Chinese Qing Ming
Celebration
"The community protested and felt that we should continue to have the Qing Ming celebration, so we got together and decided to do it. And the local community and Chinese societies have donated money and services so we can put this on."
According to Young, there are three parts to the Qing Ming celebration. The first is to invite your ancestors over through lighting of incense, candles and fireworks.
The next step is to welcome them and invite them to have tea and wine and a variety of symbolic food, including a roast pig.
The third and final step is the eulogy and the burning of the eulogy along with paper spiritual money. Then, to conclude the ceremony, everyone takes part in a final offering of
Page 1 of 2 pages for this story 1 2 >
Most Recent Comment(s):