Moths To The Bay!
A swarm of high-speed Moths - make that a fleet - fly across Kaneohe Bay, a gossamer vision to behold

Wednesday - April 13, 2011
By
.(JavaScript must be enabled to view this email address)
E-mail this story | Print this page | Archive | RSS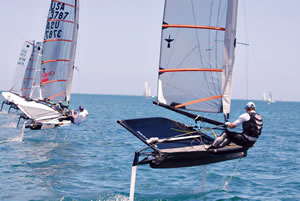 The Moth fleet at the regatta. Photo by Shelley James
The first time you see a Moth - or, even more stunning, a cluster of them - gliding by, it's like a freak of science or an apparition. Either way, you're transfixed.
The Moth has wings and it glides, but it's a boat, a dinghy that has metamorphosed over 80 years into a little flying machine that seems to levitate three feet above the water.
Around 1930, the U.S., Australia and Great Britain coincidentally found that they had each created a very similar model of water-craft. The styles converged decades ago into today's Moth, which in just the last five years grew hydro-foils. Thanks to advanced technology, the incredible shrinking boat is still strong enough to bear some heavy loads. When the boat begins to sail, the mere spine of a hull, fitted with "wings" and a mast, lifts out of the water, exposing two spindly foils allowing the Moth an extremely smooth sail, and at much faster speeds than ever before.
"It's very exciting to watch the Moths because they're so fast," says veteran spectator Liz Davies of Great Britain. "It's like watching these little insects buzzing around."
Davies follows husband Richard to all of his sailing competitions, their latest event being the April 1, 2 and 3 International Moth Pacific Rim Invitational Regatta at Kaneohe Bay, hosted for the third year by Kaneohe Yacht Club. World-class sailors, with a few Olympic medals among them, arrived for the event, following the January World Championships in Australia.
The boats arrive by plane or ship in a coffin-sized box. It's like destruction in reverse as hulls, masts, wings and foils strewn across the lawn slowly come together at the expert hands of their owners. All 11 U.S., Australian and British sailors in the lineup are celebrities in the world of high-performance sailing, but one stands out: Bora Gulari. The 2009 world champ purportedly rides his Moth 200 days out of the year. His daunting list of wins and accolades from events in every exotic locale haven't jaded him to the beauty of the Koolau-framed harbor as he talks about the sport he loves: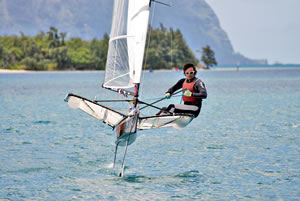 Regatta champ (and 2009 world champ) Bora Gulari. Photo by Shelley James.
"It's very exhilarating to do a sport with no motor, and you get to go to one of the best places in the world and take advantage of the sailing conditions and this great wind and beautiful location."
When points have been tallied, the Michigan native has another boasting notch on his belt. And it turns out the first-place champ is a frequent visitor to the Islands, particularly Kauai, where his parents have a home. Born into a family of sailors, the sport came to him naturally. Name a waterborne sport and he's probably mastered it: Olympic-class sailing, windsurfing, kite boarding. But even a master can face some unique challenges, like competing on an Australian lake choked with weeds or in an open-water venue in Dubai where Gulari contended with some major swells.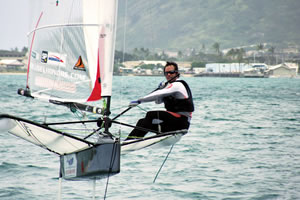 George Peet placed second. Photo by Shelley James
Just navigating the Moth is a challenge unto itself.
"You have (a course) like a traditional sailboat race, but there's a lot oftactics on top of it," says Gulari. "There's a lot of tuning that happens on the water. The physical aspect of just being quick on your feet and having perfect balance all the time is pretty important. You have to think and fly and race all at the same time."
The horn blares and the race is on, all Moths impressively perched on their stilts as they pass the start buoy. Navigation demands speed and dexterity with racers darting from kneeling to crouching to ducking under the mast, as they adjust their tackle only to battle for leverage the next second by leaning way out over the water, an extension of their wing. A few get a hearty laugh from the race crew with their show-off stance, standing on the wing nonchalantly as the boat rides high on its foils as if it requires no effort at all.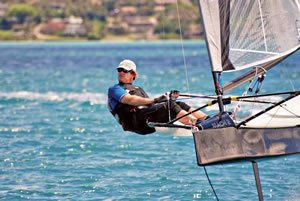 Charlie McKee placed third in regatta overall and finished first in the slalom event. Photo by Shelley James
To captain the little boat necessitates prior sailing skills, but the consensus among Moth-riders is that learning was easy because it's a friendly group and they're all ready to take neophytes under their, well, wings.
"You need to be willing to get frustrated and push through it because a lot of it is just doing the moves a couple of times and getting them figured out," says Costa Mesa's Zack Maxam. "And you need a lot of help from guys like Bora. He tells you little things that get you a step ahead."
Learning comes with plenty of bruises and maybe even some broken bones, but damage to the boat and hence the pocketbook hurts most. The fully assembled, $20,000 carbon fiber vessel weighs only 60 pounds. Damage happens easily, and parts are pricy. Get a little out of balance and the Moth will "crash." Even experienced sailors run into trouble.
"On the first day of the race, we were hitting 26 knots, which is probably 32 mph, which, in an 11-foot boat three feet above the water, is fast, and if you crash, if you stop abruptly, you can really hurt yourself," says Richard Davies.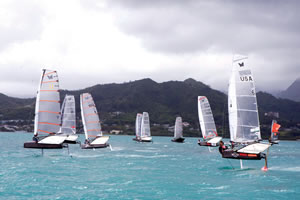 The Moth fleet on Kaneohe Bay. Photo by Leah Friel
During the regatta, one sailor's trampoline broke and another collided with a stationary crew boat - both demanding repair before being race-worthy again.
Despite any drawbacks, Liz Davies says the Moths are like heroine for junkies and the way Richard describes it, you can feel his addiction:
"There's a lot of noise at take off. The boat's still low-riding so you can feel the hull slapping on the water and suddenly it starts to lift up and it goes silent and then you just accelerate. Once they're on the foils, they become incredibly stable, and you've just got this fantastic feeling of gliding across the water at high speeds."
San Franciscan Adam Lowry knows the feeling, so he doesn't let his handicap hold him back. The guys on the bay are of various weights and aged 20 to in their 50s - and women sail too - but it's height that matters. "It's an 11-foot boat and it's 10 inches wide and I'm 6 and-half-feet tall so getting under the boom and maneuvering can be a bit of a challenge," he admits. Like the rest of crew, he's been sailing since he was a kid and he's known his competitors from other boating races, so he chose to go with the flow.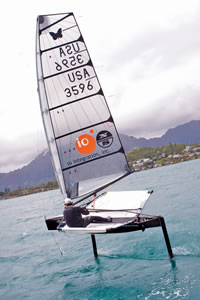 Nigel Oswald. Photo by Leah Friel
"We all have sailed with and against each other for years, decades even," he notes, "so all these people are our friends. The way this class developed is a bunch of people that had sailed high-performance boats in the past, this was their next thing in the high-performance category. These guys were the ones who convinced me to buy a boat even though I'm probably way too big for the boat, but hey, it's fun - you're sailing with your friends."
The group travels the race circuit, picking up and dropping off competitors as it moves around the world, heading next to California.
The big event in the first quarter of each year is the world championship, and looking ahead to 2013, the worlds happen in America - and Hawaii's a contender to host. The only challenge is figuring out how to bring the sport to viewers. Watching the action from a boat works great, and Switzerland got inventive at the European championships last year by attaching transponders to each boat so fans could track them live via Internet. A winning Hawaii bid would mean about 90 boats coming from the U.S. alone and another 60 international entrants. Families often accompany the sailors, so Hawaii would see quite a spike in the boating ohana.
If 11 Moths cruising Kaneohe Bay is a sight, 150 will be a vision.
Page 1 of 1 pages for this story
Most Recent Comment(s):