Playing Cops And Robbers
In the Honolulu Police Department's SCI program — not CSI, but simulated crime investigations — volunteers play criminals and victims as recruits take the final exam that makes or breaks careers

Wednesday - August 30, 2006
By
.(JavaScript must be enabled to view this email address)
E-mail this story | Print this page | Archive | RSS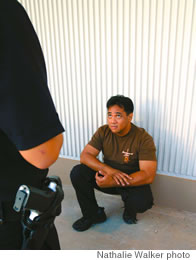 Working in SCI gives Dwayne Fedalizo
more respect for police
Jasmine Mau-Mukai, Dwayne Fedalizo and Marie Protacio are gluttons for punishment. They are victims of crime several times a year. They are attacked, verbally abused and aggressively interrogated each time. Emotions and drama run high.
But at the end of the ordeal, they take a bow and go home smiling.
That's because each is a volunteer actor at the Honolulu Police Department's training academy. While they get no Oscars for performing, they deserve applause.
Their "stage" is Ke Kula Makai, HPD's training academy in Waipahu. A casting call is made whenever a police recruit class is assembled for training. That happens three or four times a year. Volunteer actors, of which there are about 15, are part of the police training known as SCI, simulated crime investigations.
Recruits go through a rigorous, six-month training program involving classroom and physical exercises. Simulated crime scenarios are the culmination of their education, when recruits practice what they've learned. It's a final exam that decides their fate with HPD. Flunk SCI and you're out of the force.
Recruits say it is a stressful, nerve-wracking experience that they never forget. But it's crucial to testing their abilities and the realities of life on the police beat.
There are no scripts, no directors and no stuntmen in these scenarios. Actors are given only a situation brief, and then they're "on stage."
It's improv at its finest. "We're all frustrated actors," says Protacio, who has been a volunteer for 16 years.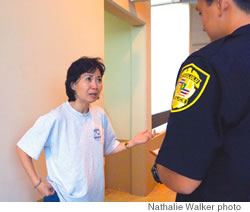 Jasmine Mau-Mukai reports being robbed as she
took money from an ATM
On the night we observe her, Protacio plays the part of a sales clerk who receives counterfeit currency. She alerts her actor-supervisor, who trips a suspect as it attempts to escape.
A simulated crime investigation begins with the police arrival. A recruit in dark-blue uniform, police radio, gun and fully loaded duty belt is called to the scene and faces an acting victim or suspect.
Mau-Mukai has been cast in domestic quarrels, armed robbery and harassment scenarios. Sometimes she ends up in handcuffs. That has been one of her legendary contributions to police training.
"I have small wrists, and I can get out of handcuffs easily," she reveals. Recruits had to learn how to secure persons with tiny wrists.
Bravo. Another public service. With the utmost respect for police, Mau-Mukai says "You have to be someone who's well-rounded and good at a variety of things. I don't know of any other profession that has the same demands and requires such quick thinking to defuse explosive situations."
She should know. Her day job is director of the Children's Justice Center, and she works closely with HPD.
As a crime scene is played out, an evaluator observes and reviews a recruit's performance. An unacceptable performance might be due to unnecessary use of force, poorly written reports, safety issues, or classifying the case incorrectly.
Actually, there are many details evaluators are observing. But the pressure is on the recruit to know those details based on what she/he has learned in the classroom. In a split second, everything from the U.S. Constitution to numerous sections of the Hawaii Revised Statues flash before them.
It is a psychological and legal check list like no other. In recruit training, it's rote and mechanical. On the beat, it has to be second nature.
There are three phases to becoming an HPD officer: the selection process, classroom training and field training, according to Stephen Kim, executive officer of the Police School. During the selection process, an applicant's character and background are thoroughly reviewed to determine suitability for employment. Federal and state requirements to possess firearms must be met. A reading comprehension, writing skills test and oral interview also are involved.
Some don't get past the selection stage. If they do, they go on to classroom training, a challenging and demanding period when every waking moment is focused on passing 16 exams.
Students endure daily written reports, weekly academic exams, grueling physical tests and frequent inspections. The academy
Page 1 of 2 pages for this story 1 2 >
Most Recent Comment(s):