Saying 'Happy New Year' The Kodomatsu Way
Kadomatsu, a combination of bamboo, pine and flowers, began 600 years ago in Japan as a way of offering luck in the new year, but today it's more popular in Hawaii than Japan

Wednesday - December 28, 2005
By
.(JavaScript must be enabled to view this email address)
E-mail this story | Print this page | Archive | RSS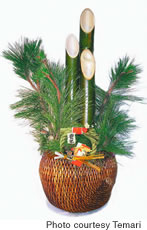 Temari's modern kadomatsu
What do you put outside your door on a cold winter's night to ward off evil spirits in the new year?
No, not your mother-in-law. In the Japanese tradition, one places a kadomatsu, or bamboo pine, at the entry to symbolize strength and good fortune. Originated in Japan more than 400 years ago, the practice is enthusiastically perpetuated here in Hawaii. In our culturally diverse society, both Japanese and non-Japanese residents honor this tradition on new year's. Japanese tourists marvel that we sustain a tradition that many no longer practice.
One sees the elegant stalks of cut bamboo and greenery at upscale homes and humble shacks, at corporate offices, in front of stores and restaurants, and at temples.
Old traditions die hard. Thank goodness.
This week, Islanders are scurrying about preparing for the new year. For the Japanese, this means purification rituals such as cleaning one's home and office, settling old debts, and displaying okazari or new year's decorations that bring blessings.
Kadomatsu enjoys its glory for about two weeks when it is in peak demand. Vendors such as Brian Higuchi, who supplies 90 percent of the stores with kadomatsu, burn the midnight oil to meet merchant orders. It's the same holiday rush, as it has been for the past 15 years that Higuchi's been pushing pine-and-bamboo. He makes it or breaks it profit-wise within a two-week window.
Arts and craft organization Temari goes through the same experience each December. For the past 23 years, the center for Asian and Pacific arts gathers its members to make hundreds of arrangements as a fund-raiser. Individuals and corporations place orders for kadomatsu ranging in price from $25-$250. This year's displays are adorned with fresh pine and Year of the Dog ornaments imported from Japan.
"It's the sweat equity of 100 volunteers of all ages that makes kadomatsu a great event," says Ann Asakura, co-founder of Temari. "Teaching the making of kadomatsu ensures this ritual's survival. Just when I think we're all getting too old for this, I hear from a young yonsei, fourth generation Japanese, who just started pounding mochi (sweet rice cakes) with her clan, and thinks we're pretty cool for keeping the kadomatsu tradition alive."
Kadomatsu translates literally to gate pine, implying a guard for the house. In the Edo Period of the 1400s in Japan, giant pieces of bamboo were filled with water and sand, and placed at doorways in case of fire emergency. The first generation of immigrants to Hawaii made these symbols of the new year using ironwood branches and local bamboo.
Bamboo symbolizes growth and strength, fresh pine represents long life and endurance. There are hundreds of varieties of bamboo, according to John White, Maunawili resident and longtime supporter of Honolulu Botanical Gardens.
White explains that bamboo is just grass, but it varies in height from one-foot dwarf plants to giant timber bamboos that can grow to over 100 feet. It grows in many different climates, from jungles to high on mountainsides.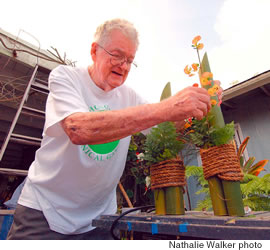 John White applies the finishing touches to a
traditional kadomatsu
Bamboos are further classified by the types of roots they have. Some, called runners, spread exuberantly, and others are classified as clumpers, which slowly expand from the original planting.
On occasion, White and his wife Jean teach classes in making kadomatsu. Participants get kits with pre-cut bamboo, tape and rope. This makes it easy for a beginner to simply assemble the arrangement, rather than get involved in cutting bamboo. It is a dangerous sport, recommended only for those who have the right tools and a firm grip - of their senses as well as bamboo.
White uses an electric fine-tooth saw. Although he doesn't recommend it, a hand saw can be used. But do so with great caution and care. Most instructors cringe at the thought of an amateur tackling bamboo with a hand saw. They give you a "don't-try-this-at-home" look.
After hacking bamboo poles to the desired length, trim the tops at an angle. Bamboo with a thick wall is best, so it does not splinter. White uses electrician's tape to bind three bamboo sticks together. Each bamboo should face in a different direction to ward off evil spirits.
"Electrician's tape is elastic and tends to pull (the bamboo) together, which is important because when bamboo shrinks, it gets loose and wobbly," White says.
Tape together two bamboo bases, then add the third so the fastening is secure. Then take cordage or twine, such a Manila rope, and bind from the bottom, covering the taped areas.
"There's no right way to make kadomatsu," Asakura says. "Temari's kadomatsu has evolved over the years. This year's Pacific kadomatsu blends Asian ritual with Pacific foliage, like lehua, pukiawe and anthuriums."
One of Temari's most loyal customers is Sheraton Waikiki, which has purchased corporate kadomatsu for many years. Purchaser Jay Hookano calls Asakura in September to remind her of the hotel's annual order.
The kadomatsu tradition is "an oldie but goodie," she beams.
What does one do with kadomatsu after the new year's period?
Reverend Daiyo Amano of Izumi Taishakyo Mission says parishioners bring them to the temple to burn, but they can simply discard the decorative artifact. While there is spiritual symbolism in the use of kadomatsu, there really is no curse in discarding them with the rest of your year-end trash.
For skeptics, Rev. Amano
Page 1 of 2 pages for this story 1 2 >
Most Recent Comment(s):