Scrabble Serious
Scrabble is growing in popularity, and ESPN was there when Honolulu's Kenji Matsumoto placed at the recent national championship
Wednesday - September 14, 2005
By
.(JavaScript must be enabled to view this email address)
E-mail this story | Print this page | Archive | RSS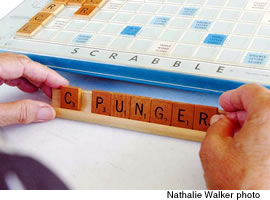 Words must be spelled from seven
tiles on the rack
Move over, poker, there's a new game in town. And it's spelled S-C-R-A-B-B-L-E -which is worth 14 points.
OK, so poker is still king in Las Vegas and on ESPN, but Scrabble
is growing in popularity as a competitive game. In fact, ESPN was there to cover the recent 2005 National Scrabble
Championship at the Reno Hilton in Nevada.
Hawaii's top player, Kenji Matsumoto, took 19th place in the top expert division. He was one of more than 700 players from 40 states and six countries who vied for the $25,000 prize. (The games were televised live on ESPN Aug. 19 to 24, and on the Internet at www.scrabbleassociation.com.) Championship games will be rebroadcast on ESPN several times starting on Oct. 2 with the times to be announced.
How did one of Hawaii's own get to be so good at Scrabble
? The 20-year-old college student and 2003 Iolani grad played at one of two of Oahu's Scrabble
clubs.
More than 10,000 people are a part of Scrabble clubs in the United States and Canada, and there was even a documentary Word Wars, which debuted at the 2004 Sundance Film Festival. More than 1 million students are a part of the National School Scrabble
program. This year's national champ, 31-year-old David Wiegand of Portland, Ore., defeated the reigning world champion, Panupol Sujjayakorn of Bangkok, Thailand.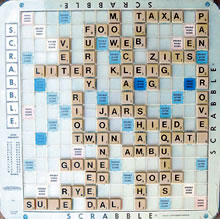 Points were scored in droves in this game
Wiegand appeared on the NBC Today Show, and shared that he practiced, learned a lot of words and studied word lists. The next World Scrabble
Championship will be in London, England, on Nov. 16-20, 2005.
Matsumoto joined the club during his Iolani high school years, and immediately rose up through the ranks.
"He's got a photographic memory," says Giv Cornfield, who founded the Scrabble
Club in Hawaii with his wife Marion. "He's king of the roost. No one could beat him. It's 50 percent skill of the player, plus luck of the draw and strategy."
Matsumoto, an Aiea resident, is attending Hampshire College in Massachussetts.
Also part of the Hawaii contingent participating in the National Championships were Lois Oda from Oahu, and Mark Pistolese and Greg Heidler from the Big Island.
Oahu is the home of two Scrabble
clubs. The club in which both Matsumoto and Oda play meets at Kahala Mall from 6:30 to 9:30 p.m. Wednesdays in the food court area on the center stage side of Jamba Juice and Starbucks. The other club meets on the lanai of the Elks Club Lodge from 9:15 a.m. to 12:15 p.m. on Mondays.
Both clubs charge 50 cents to play a set of three rounds. The money covers the cost of photocopies for the score sheets. Each player keeps track of their own scores as well as their opponent's so there's no cheating or discrepancies. A club on the Big Island also meets in Pahoa. The clubs are open to people of all skill levels, and the clubs encourage people to join them. Scrabble
on the web at www.isc.ro can be played in English, French, Romanian, Italian or Dutch.
Lois Oda, a tutor and teacher, was thrilled and honored to participate in her first national Scrabble
tournament, where she participated in the lowest division, division six.
"I've been playing since I was a little girl," the three-year club member explains. "I also play online."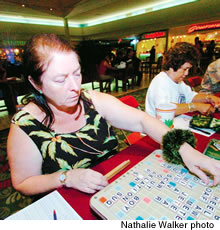 Lois Oda was one of the Hawaii
Scrabblers in nationals
She earned the high score of 90 points for one word, Oxygens, which gave her what serious Scrabble
players call a bingo - when you use all seven letters on your rack (the little shelf on which players keep their tiles). Another glorious move she made came when she played the word "liquidate," which landed on a triple word score.
"I wasn't intimidated," she says. "This many people are so serious about it. I didn't know some of the words they played, but I was there for fun, and I got into the competitiveness."
When you show up at a Scrabble
club, here's how it works. After the first round is played, the scores are matched up, and the second round consists of the players with matching points. For example, the players with the two highest scores play each other, the players with the second highest scores play each other, and the players with the third highest scores play each other. A third round is formed by matching the scores of players from the second round. Some clubs time the games to about 50 minutes per round.
Some players put their hand on their mouth as they think of what their next move will be. Others may put their hands on their temples as they deeply ponder what word they can make out of the seven tiles they have on their rack.
And Hawaiian words such as hula, luau, poi and lei are kosher. That's because those words are in the Official Scrabble Dictionary
, which has its fourth edition in print already. And while wahine and kane are accepted words, pau is not. The fourth edition Scrabble "bible" is available in paperback and also as a computer device. The computer device looks like a PDA or a computerized translation dic-
Page 1 of 2 pages for this story 1 2 >
Most Recent Comment(s):