Shimmy Into Shape
It's feminine. It's sensual. It's everything a dance should be. And it's everything Kimi Stever, 52, was looking for to add some excitement to her workout routine.

Wednesday - June 22, 2005
By
.(JavaScript must be enabled to view this email address)
E-mail this story | Print this page | Archive | RSS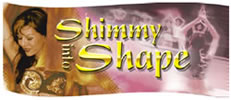 It's feminine. It's sensual. It's everything a dance should be. And it's everything Kimi Stever, 52, was looking for to add some excitement to her workout routine.
Stever, an English teacher at Honolulu Community College, took up belly dancing a year ago as a way to improve her flexibility. Several shoulder shimmies, hip shakes and head slides later, Stever realized that belly dancing not only increased her flexibility, but it was a great full-body workout that left her feeling sensuous and saucy.
"I belong to a gym and do yoga about three times a week," says Stever, who also works on weekends as a cocktail waitress at Sheraton Waikiki's Hanohano Room. "I've also tried Latin and ballroom dancing. Even though those were fun, they required a partner, and my husband wouldn't go dancing with me. But belly dancing is something just for me. I can do it and practice by myself." Stever is just one of many women, ranging in age from 5 to 75, who are joining the global renaissance of belly dancing. Whatever your age or body type, belly dancing is a lowimpact, total-body workout that can help improve your posture, balance, rhythm and even selfesteem.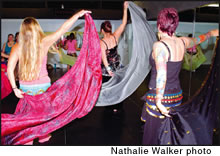 (Top photo) Willow Chang in her electric
belly dancing costume she handbeaded
herself. (Above) Lauren Faulkner, belly
dance instructor Shadiya and Dhyana
Zagri have fun with scarves at Allegra
Performing Arts Center
"And it's fun," says Willow Chang, belly dance instructor and performer. "I've been known to say on many occasions that it's more fun than Stairmaster. I've done Stairmaster. It's un-fun." Stever says she never really considered herself "adventurous" when it came to trying new things. Since she started belly dancing, however, Stever has really gotten into the spirit of the dance.
"I went crazy ordering hip scarves on eBay when I first started," she laughs. When she practices at home, Stever's family can hear her coming down the hallway. "They're good because they have coins on them that make noise so you can tell if you are moving the right body parts!" Chang, who has been belly dancing for 11 years and has her bachelor's degree in dance from the University of Hawaii at Manoa, says that the dance often means different things to each student.
"It might just be a means to socialize or exercise or get in touch with their femininity," she says. "It might just be an outlet. They might want to be a performer or teach. What I feel is important for me to do as a teacher is to instill a love and a respect for the culture and the dance. I also try to create a safe and positive environment for the students."
When Susan Gilhooly, 32, started taking belly dance classes from Chang in 2000, she was dealing with some personal issues.
"I thought it would be a good way to challenge myself and to do something very different," she says. "I was shy and I thought 'If I can do this, I could do anything.'"
Gilhooly says it felt a little bizarre at first to step so far out of her comfort range, but everyone in the class was supportive.
"It was a rush," says Gilhooly. "It wasn't something I had to be in great cardio shape to get into. I didn't find anything painful to do, but it was still a great workout. And I think it helped me conquer a bit of my shyness."
Chang says that in belly dancing the person you learn to trust most is yourself.
"There is a definite sense of self-empowerment and confidence that people take from this dance," she says. "You really learn to accept yourself. I think it's important to invest that time in yourself. You're never too young or too old to start."
Chang's own instructor, Glo (Nurriyya), agrees. Glo has been performing as a belly dancer for 25 years, teaching for 20.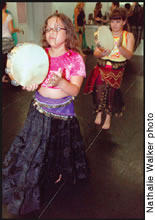 Mahina Taglies and Megan
Shaffer dance in time to
the music
"When I started dancing, my body concept was always really poor. This was when I was in my 20s. But when I took belly dance I learned that no matter what shape or form your body is, it's about learning to accept your body and to do what you can through the dance form."
Glo, now in her late 50s, notes how belly dancing has continued over the years to help her stay flexible and toned, even after a car accident that hurt her back. "Belly dancing just calls to your soul," she says. "It's for women who have done other things and are tired of doing something repetitive."
Belly dance instructor Shadiya, who has been dancing for 12 years, was impressed when she moved to Hawaii and found a large community of lovers of the ancient dance.
"There's really a great diversity of teachers and people who participate in it here," says Shadiya, whose daughter, Mahina, 8, also performs with Shadiya's Dancers of Habibi Hawaii troupe. "It's a lot more popular than people realize."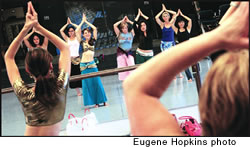 (L to R in mirror) Tiffany Aoyama, Jessica
Schmidt, Willow Chang, Christel Kollepka,
Denise Chan, Thalya Demott and Gwen
Yoshizawa get in tune with their inner
belly dancer at Kapiolani Community
College's intermediate belly dancing class
Shadiya says people say how belly dancing is something they have always wanted to try. "People are intrigued by it, but it can intimidating, so it takes a little while for people to get to a class," she says. "I try to make it fun for them."
Tammy Yee, 42, an author/illustrator of children's books and also a student of Shadiya's, started to shimmy her way into shape last October.
"I was always a tomboy and never danced," says Yee. "But Shadiya just has this way of making everyone feel really comfortable. It's like a sisterhood. Everyone accepts you. Everyone feels beautiful regardless of age, size or ability. It's a great workout and you really do sweat."
Among other things, sisterhood is something that belly dancers across the board note about the benefits of the dance. "There isn't competition in class," says Shadiya. "There's really strong support and friendship among all the women."
Throughout history, belly dancing has typically been performed by women for other women. Some experts say that belly dancing is the oldest form of dance, having roots in all ancient cultures from the Orient to India to the Middle East.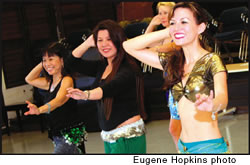 Willow Chang (right) shows Gwen Yoshizawa,
Denise Chan and Thalya Demott how to use
their hips
"In a contemporary setting, it isn't unusual to have belly dancing at any social function, whether it's a baby's first birthday or a store opening," says Chang, who also performs on weekends at Marbella restaurant. "It's always present at weddings — really at any celebratory event. It's expected. A belly dancer is regarded as a good luck omen."
And still, skepticism and criticism have followed belly dancing since it was introduced in America at the Chicago World's Fair in 1893, where a dancer named Little Egypt performed.
The exotic body rhythms and music, while fascinating to some, were appalling to others. A stigma followed the dance around for the better part of a century, linking belly dancing to something along the lines of stripping.
"Sometimes I think the public has given belly dancing a bad reputation," says Stever. "But the dance is really beautiful and it celebrates being a woman. I don't think there's anything lewd or disrespectful about it. Especially if someone like me, who's 52, can take it!"
Today there are belly dance festivals, workshops, seminars, classes and do-it-at-home DVDs — making belly dancing readily available for whatever suits your needs.
"One of the things I tell beginners is everyone has some sort of natural ability and talent," says Shadiya. "Even if you're a great dancer, there's always something you need to work on from foot work to arm work."
But one thing you likely won't have to worry about is your hips. "It's interesting," says Shadiya. "We hear a beat and we want to move to that rhythm."
So the hips, well, they kind of take care of themselves.

Where To Belly Dance Around Town
Kapiolani Community College
Taught by Willow Chang Tuesdays from 5:30 to 6:30 p.m. (introduction and continuing)
Thursdays from 5:30 to 6:30 p.m. (intermediate)
Summer, fall and spring sessions at the Maile Dance Studio on campus.
A nine-week session is $89. Call 734-9211
Body Balance Center
Taught by Willow Chang
Ongoing/ continuing technique Wednesdays and Fridays from 11 a.m. to noon
at 320 Ward Ave. Fee is $15 per class; $12 package deal. Call 292-0820
Pacific Martial Arts
Taught by Willow Chang
Saturdays 11 a.m. to noon (continuing technique)
Saturdays noon to 1 p.m. (intermediate)
Fee is $15 per class; $12 package deal. Puck's Alley, second floor. Call 292-0820
Aloha Activity Center
Taught by Shadiya
Saturdays 1 to 2 p.m. Ongoing/ multi-level at 725 Kapiolani Blvd. Fee is $10 per class. Call 739-6297
Allegra Performing Arts Center
Taught by Shadiya
Tuesdays and Thursdays, 7 to 8 p.m. (summer hours) Call 254-TUNE
Manoa Dance Studio
Taught by Glo
Tuesdays from 6:30 to 7:30 p.m. (beginning)
Sundays 2 to 3 p.m. (intermediate) and 3 to 4 p.m. (basic)
All classes are ongoing. 2851 East Manoa Road, suite 1-207.
Fee is $10 per class; $32 for a four-class package. Call 383- 6817
Goddess in Training
Taught by Shamira
Ongoing/ multi-level classes At 808 Bodyworks in Kunia. Times vary. Call 688-1808
Kapiolani Women's Center and Straub Pearlridge
The next six-week series starts June 25 and meets Saturdays from 8:15 to 9:30 a.m. at Kapiolani Women's Center. Also starts June 23 and meets Thursdays from 10 to 11:15 a.m. at Straub Pearlridge. Fee is $60 Visit Kapiolaniwomen.org or Call 535-7000
Kailua Movement Studio
Taught by Malia
Sundays at 1 p.m. Ongoing. Fee is $15 per class, or four for $40. Call 234-1006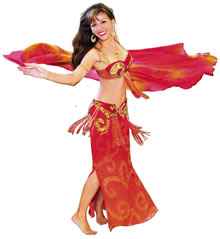 Page 1 of 1 pages for this story
Most Recent Comment(s):
Commenting is not available in this weblog entry.