Street Cruisers
Imagine that, bikers who ride actual bikes. It's so much fun, they don't realize they're getting exercise too. On some nights, the group can grow to include more than 100 bicyclists of all different ages and from various bike clubs
Wednesday - March 23, 2011
By
.(JavaScript must be enabled to view this email address)
E-mail this story | Print this page | Archive | RSS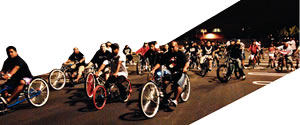 Bikers go for a Thursday night cruise, led by Jim Serrano, Rocky Villaver and Jay Serrano
You may have seen them riding around the Island - a big gang of custom stretch cruiser bicycles mixed with a few other types of bikes cruising the streets of Oahu.
On some nights, the group can grow to include more than 100 bicyclists of all different ages and from various bike clubs, including The Others, Sick Cycles, Eluwene Bike Crew, Runn Tha Streetz Enterprise, Neighborhoodz Bike Club, Bandana Crew, Supremacy Bike Club and Childhood Dreams Bike Club.
Particularly on Thursday nights, they meet at 7:30 p.m. in the newly extended parking lot of Costco Iwilei. At first just a few bikes come rolling in, and then before you know it, there's a mob of them.
It's mostly guys, but women are more than welcome to join. And there are even families with little children riding along. The only requirement is you need to be nice to everybody, and, of course, have a set of two wheels.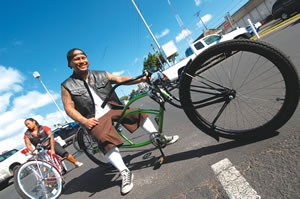 Bong Padilla, president of The Others Bike Club-Hawaii
The weekly four-hour ride goes to Waikiki and back with a stop at Ala Moana Center Food Court for dinner, drinks and a bathroom break.
Sometimes, the ride will get changed up on the fly, with the group making impromptu detours from the usual route.
"We started riding on Thursday nights last August with three of us, and it just turned into this big bike ride," says Bong Padilla, president of The Others Bike Club-Hawaii Chapter, which has 11 members. "Anyone is invited to ride with us. We just want to promote the riding culture."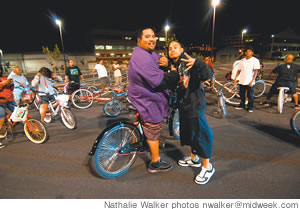 Nick Caballero and Gunnaveli of Blood Brothers Bike Club
Padilla, 41, bought his first stretch cruiser bike seven years ago in San Jose. "It was something different and I liked the look of it," he says. "And when we ride, I get reminded of riding our bikes when we were kids."
According to this group of bike enthusiasts, stretch cruisers start at about $500 and can go up and up and up, depending on how you build it.
"The stretch cruisers are a lot smoother and more laid back than regular bikes," explains Jeff Apana of Kunia. "And everybody doesn't want to be the same, so there's a lot of customizing."
For members of Supremacy Bike Club in Kalihi, pedaling on two wheels was a way to bond with their children.
"We are a low-rider car club and our members have children, so we started the bike club for them and for some of the kids in our neighborhood who don't really have anything to do," says Molina. "We've been riding since 1993, and our bike club mostly rides vintage Schwinns. But we like riding with the different bike clubs on Thursday night because of the camaraderie. I think it brings my family closer to me and my friends and their kids."
For Jim Serrano of Sick Cycles Bike Club, which has about 15 members, bikes have become a fun way to keep busy, whether you're building it or riding it.
"Stretch cruisers are the new big thing - it's comfortable when you ride, and because of how it looks you get a lot of attention," says Serrano, 30. "And with gas so expensive now, it's a good
Page 1 of 2 pages for this story 1 2 >
Most Recent Comment(s):