Surf Fido, Surf
Catch a wave and … you're barking on top of the world. Just ask any of the canines that enjoy surfing with their humans
Wednesday - March 23, 2005
By
.(JavaScript must be enabled to view this email address)
E-mail this story | Print this page | Archive | RSS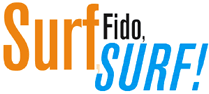 Surf's up, dog! The sun's up and the waves are calling. And Fido can't wait to hit the beach.
It's not something you see every day — a smiling dog hanging 10. But some surfers have discovered that their four-legged friends prefer water over land.
Erik Lillmars and his 4-yearold black Labrador retriever Malu are regulars at Queen's and Canoes in Waikiki. "My New Year's resolution is to take her once a day, but you know how New Year's resolutions are …We probably go about three times a week," says Lillmars. "When she hears that magic word, beach, she's already at the end of her leash and she'll lead you down there."
Lillmars and Malu found each other at Sunset Beach three years ago. At the time, the friendly canine was alone and homeless.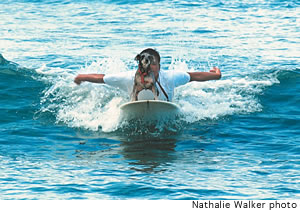 Moko is already up as Daniel Uchimura paddles at Baby Makapuu
"She was abandoned and just strolling the beach," recalls Lillmars. "She was totally skin and bones, and I asked the lifeguards about her and they said that she had been roaming the beach for like four days. So I decided to take her home and give her some food and water. And I tried to do the good thing and took her to the area vets, but they didn't recognize her. So then I took her to the North Shore and dropped her off about every five miles to see if she would run home, and she would just sit there. So after a couple of weeks I just said for some reason and somehow she was meant to be with me."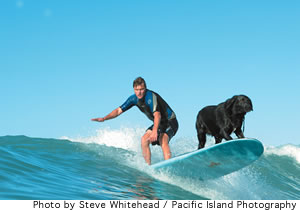 Malu walks the nose at Queen's with Erik Lillmars
Lillmars started taking his new friend to the beach, swimming and playing at the shorebreak. He would then leave her near the shore and paddle out to surf. But as he went out, she would follow.
"People in the lineup would say, 'Whose dog is that?'" laughs Lillmars. "I would paddle to her and say, 'Get on the board. What are you doing out here?' and paddle her in. At the time I thought I was rescuing her. But then it just made sense. She swims out here. She likes to play in the shorebreak. She can take good ones on the head. And when I paddle her in she has good balance on the board.
"So, I borrowed a board and took her out, and the first time she went out I was just amazed. It was like, whoa, she's a natural at this."
Malu, who weighs 78 pounds, was definitely born to surf. She rides some of the biggest sets of the day, and knows exactly where to be on the board. Her biggest wave to date: a 6-footer (face).
"When I take her to small Waikiki, she just plays and laughs at everybody," says Lillmars. "She'll walk up to the nose on her own and hang on the nose. And depending if it's a small day I'll let her do it, but I try to keep her back as much as possible because my whole thing is if we're going to learn this, then we're going to start from scratch and learn the techniques and actually surf.
"I'll keep her as far back as she can by me and I'll say good girl, stay, girl, easy. Her legs are right by my head, and once we make our bottom turn, if it's a goodsize wave, she'll lock in and stay where she is. And that's what I want. For handling and steering, you don't want to be too far out on your board."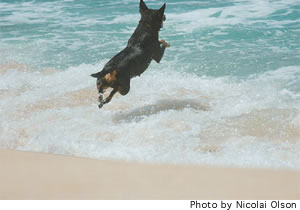 Foxy Lady dives in: Surf's up!
Lillmars and Malu ride a 12-foot Surftech longboard. The front end of the board has a special padding, similar to the type used for water patrol sleds.
"She's never had any kind of injury from surfing," says Lillmars. "Hopefully, it'll stay that way. And that girl has never coughed once since I had her. There have been times when she was getting held down and I though she might come up and cough, but I guess she just has a natural ability for holding her breath.
"The last thing I want is for her to not have fun. It's like having my child in front of the board, and the last thing I want to do is have her get hurt. The most challenging thing for us is the amount of people surfing at Waikiki, you really have to maneuver through people."
Amazing as Malu is, she's not Oahu's only surfing pooch. Bruce DeSoto's black Labrador Winnie is also a board rider. The 10-year-old usually rides 2- to 3-foot surf at Makaha. And you might even recognize her from the movie Blue Crush.
Page 1 of 2 pages for this story 1 2 >
Most Recent Comment(s):