Teens On The Run
You see them running all over Oahu - high school cross country runners in training for weekend races. And it turns out the sport is enjoying a revival this year
Wednesday - October 19, 2005
By
.(JavaScript must be enabled to view this email address)
E-mail this story | Print this page | Archive | RSS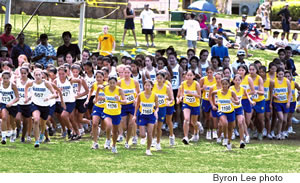 The girls do some thundering too: here's the start of the
junior varsity race at the Punahou Invitational
On your mark, get set, go! Drive around the island during the afternoon these days and you will most likely pass some of the thousands of teens racing each other - on foot. It's cross country season and as championship meets approach, these dedicated runners are picking up speed and having fun.
"Basketball used to be my sport, but now I love running," says Candace Yonashiro, a senior at Hawaii Baptist Academy. "I like that it challenges you as a person, and that you lean more on your teammates for support.
"You encourage each other and you understand the struggles and sufferings. You understand the different levels of pain - physical and mental - that everyone's going through."
With her fastest 3-mile time being around 23 minutes and 30 seconds, Yonashiro knows she's not the fastest runner on her team, but she still gives it her all.
"I know (teammate and state champion) Lauren (Ho) is not right next to me or even in sight, but we owe it to everyone to work hard because they're working hard too," she explains. "I think when HBA started its cross country team five years ago, and even now it's a big joke - who would want to go out and run? But it's really rewarding, especially if you unexpectedly find out that you're good at this, and just the camaraderie. Also, knowing that you did everything you could, you find a worthwhileness in yourself, a sense of accomplishment. And you make a lot of friends."
Cross country season runs from September through November, with practices starting in July. Teams often practice every day, running up to 10 miles a day, depending on each coach's training schedule.
Meets are usually held on Saturday mornings. Intermediate girls and boys and Division II (junior varsity) girls race for two miles. Junior varsity boys, and varsity boys and girls race for three miles.
Coming up: the ILH Championship on Nov. 5 at Central Oahu Regional Park and the OIA Championship on Nov. 5 at Waialua High School. The State Meet is scheduled for Nov. 11 on the Garden Isle at Kauai Community College.
According to Sharon Yoshimura, OIA cross country coordinator and athletic director at Waialua High School, the top female runners to watch for this season include Lei-Aloha Bratton of Kaiser High School, Kia Atkins of Radford, Kawailelenani Carmack of Kapolei, and Amanda Tanhchaleun of Aiea. For the boys, it's John Otaguro of Roosevelt, Roy Hawkins of Aiea, Matthew Kodama of Castle and Michael Dain of Kapolei.
As for the ILH, it's speedsters Lauren Ho from Hawaii Baptist Academy and Julie Besenbruch from Maryknoll, as well as Jeremy Kamaka'ala from Kamehameha Schools and Peter Deptula from Punahou.
While some students confess to joining cross country as a way to challenge themselves, stay in shape, or simply because their friends are on the team, others do it with dreams of competing on the collegiate level.
"I'm pretty much set on going to the University of Washington with a scholarship for cross country and track," says HBA standout Lauren Ho, whose fastest three-mile time is 18 minutes and 6 seconds. To give you an idea of how fast that is - the average time for a high school female cross country runner is about 21 minutes on the local level and between the high 19 to low 20 minutes nationally.
"(When I race) there's a lot of pressure," admits Ho. "But it helps to give me more motivation to do well each week.
"My most memorable moment was at last year's Footlocker Regionals. I got ninth place (only the top eight move on to nationals), so I missed the slot by one place. And I missed it by about 1 second. But even though I didn't qualify, my goal was to get top 25, so getting 9th place was above and beyond our expectations of what I could've done and probably my biggest running accomplishment."
For 46-year-old Steve Jenness, who has been coaching cross country and track at Kamehameha Schools for 22 years, running has been a major part of his life. As a teen, he ran for Kalaheo, and then for University of California-Riverside on a track scholarship.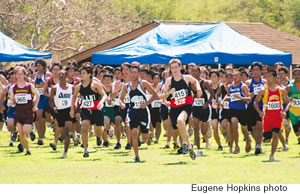 Thundering herd: boys varsity runners take off at the
start of the Kaiser/Honolulu Marathon Invitational
"I guess the most dramatic change it did was that I went to college for free," he explains. "It opened a lot of doors for me. I don't even know if I would've gone to college, I probably would've, but it made it a lot easier with a scholarship from running.
"The cross country scene, it's gone through many changes. It went through a big popularity boom in the late 1970s and the early 1980s - running was very popular here and nationwide. Then people got involved with other things and other sports. But I think running, especially locally, has gotten popular again as far as the kids. There's bigger turnouts now, and there's more schools doing it."
The popularity of cross country varies by school. At HBA, coach Ross Mukai says the team has grown at a surprisingly rapid rate.
"When we started the cross country team at HBA, I feel they welcomed us really well, but I don't think they realized how much it was going to take off in the first year," says Mukai. "We started with 27 kids, then around 45 the following year, 50-something the third year, 68 the fourth year, and then this year we went up to 95 kids.
"I think the school wasn't quite prepared for that. They were taken
Page 1 of 2 pages for this story 1 2 >
Most Recent Comment(s):