That Is So 1974!
Members of the Class of 1974 from nine high schools are throwing themselves a 50th birthday party in Las Vegas, and inviting all Hawaii grads from that year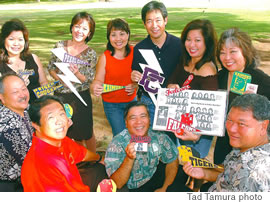 Members of the organizing committee, some of whom
are also pictured above: (seated, from left) Alan
Yamamoto, Philip Tom, Dean Nakasone, Gareth
Sakakida; (standing) Vicki Young Tsukano, Mary
Alejado Sensui, Jan Yamamoto Heiser, Dean Sensui,
Sheryl Murata Sakuma and Aime Matsunaga Ogata
If you were a senior in high school when the Miami Dolphins last won a Super Bowl, when gas shortages meant cars with license plates ending in even numbers could fill up only on even-numbered days, and when fashion "do's" involved girls wearing Bes'Kine false eyelashes and boys sporting Angel Flight pants, then there's a good chance you're turning 50 this year.
Fifty is fabulous, says Kaimuki High grad Jan (Yamamoto) Heiser. "I feel like I'm 20 with 30 years' experience."
Heiser is leading a group of class of '74 graduates from 10 Oahu high schools who will celebrate their 50th birthdays at the Gold Coast Hotel and Casino in Las Vegas Oct. 19 to 21. And this party is inclusive - Hawaii '74, as the group is called, is inviting 1974 graduates from all Hawaii high schools to join in.
Mary Alejado Sensui
Dean Sensui
Gareth Sakakida
Sheryl Murata Sakuma
Philip Tom
Jan Yamamoto Heiser
Maria Tom
Aimee Matsunaga Ogata
Dean Nakasone
"We have the 10 participating schools, but we also formed Ohana High, which would be the category for any other school who wanted to come in," Heiser says. Besides Kaimuki, the schools are Aiea, Castle, Iolani, Kaiser, Kalani, Leilehua, McKinley, Pearl City and Roosevelt.
The three-day bash offers a game night, '70s disco night, golf, shopping and bowling tournaments, and a Hawaii '74 World Series of Poker with "a guarantee cash prize plus a WSOP bracelet for the winner," Heiser says. The trip culminates Saturday night with a birthday party, which, as of last week, 265 people were set to attend.
"On Friday night it's disco night," says Sheryl (Murata) Sakuma of Kalani. "It will be all music from the '70s. And of course Saturday, too, will be all music from the '70s because we know all the words. It's very familiar. We don't know this hip hop stuff.
"We have this disc jockey, he's going to do it. It'll be nostalgic. It'll just be fun to see people we haven't seen in years."
Organizers say the fact that each school held a 30th reunion just two years ago hasn't dampened responses. The Vegas location has attracted more people, they say, especially those who live on the Mainland who weren't able to make it home.
They also say they're following the lead of the class of '72, which held a seven-school birthday bash in Vegas two years ago. "Dale Nakasone (of McKinley) he knew some of them, too," says Heiser. "He contacted me and that's how it started ... We had an initial meeting with about five people. We talked about 'This is the gist of it. That's the idea.' "
The next question was, " 'Do we like each other?'Beause we were all strangers."
Two years later, you wouldn't have known it. They finish each other's sentences, laugh often and enjoy knowing that now when they see each other at, say, business functions they've already developed a friendship that may never have materialized otherwise. "There's a common bond," Heiser says. "We all have the same memories of how we were, so that connects everybody."
That common bond spans beauty tricks - "We used to use Scotch tape 'cause we didn't have double eyes," says Aimee (Matsunaga) Ogata of Kaimuki, giggling at the memory - to vestiges of yesteryear like rotary phones, manual typewriters and drive-in theaters. But it was the mention of social clubs, sort of the '70s answer to Internet chat rooms, that drew the most excitement.
"Social clubs were very popular back then. It was a way to meet other people," Sakuma says. "You would make a group of your girlfriends and name the group and have an advisor who had to be over 21 and you would
Page 1 of 2 pages for this story 1 2 >
Most Recent Comment(s):