That's 1 Fast Mercedes
Mercedes Santana is just 13, but is making waves nationally, and next month heads to the 'Loretta Lynn's,' named for the singer who hosts the U.S. amateur championships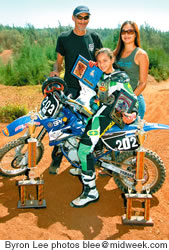 Mercedes with mom Kelly,
grandpa Mitchell Meyer and
trophies
Thirteen-year-old Mercedes Santana doesn't have much to say. Quiet by nature, she'd rather be kicking up some dirt on her blue 85cc Yamaha YZ at the Kahuku Motocross Park. That's where she does her real talking: racing knobby-wheeled motorcycles off-road against the boys and leaving most of them in the dust.
"I see her out here, and she can haul (you know what)," says 18-year-old rider Jason Bagwell.
Santana, an eighth-grader at Waianae Intermediate School, has been training for the 25th annual AMA Amateur National Championships since winning the area and regional qualifiers for her class, 9- to 13-year-old girls, engine size 65cc to 105cc, in Milford, Calif., in May.
Racers nationwide competed in 64 area qualifiers and 13 regional championships to determine the finalists for the nationals, which organizers call "the proving grounds for America's future professional supercross and motocross heroes."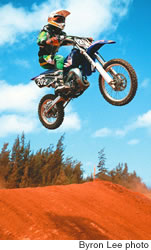 Mercedes catches some
serious air at Kahuku
The nationals, referred to as "Loretta Lynn's" because it's held at the country singer's ranch in Hurricane Mills, Tenn., will be contested July 31 to Aug. 5.
"It's the biggest amateur national in the U.S.," says Jake Gribbon, a former professional rider from California who's been training Santana "on and off for about a year."
"This is the race for all the amateurs coming up who want to be noticed, so it's going to be really, really tough competition, really hard," he says. "But where she qualified in California was a tough spot to qualify in and she qualified first - you go to (Loretta Lynn's) you'll see all the talent in the world."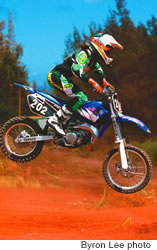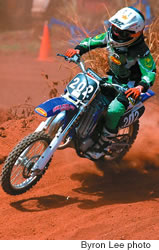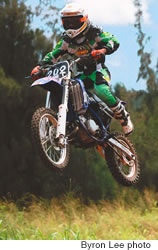 Riding 'aggressively,' Mercedes
regularly beats the boys and
loves to go airborn
Santana started off-roading five years ago on a four-wheeler, then switched when her uncle gave her a two-wheeler with the race number 202. She's now on her third bike since then, but the number has stuck. And although she's only been competing for three years, this won't be her first appearance at Loretta Lynn's.
She competed last year and was doing well in the heats, or "motos," placing first in moto 1 and fourth in moto 2, and she was leading the pack in the final moto when disaster struck.
"I fell, then my clutch lever broke," she says. She ended the moto in 38th place and took 13th overall.
"She was disappointed, she thought she let everybody down," says her dad, Nelson. "But she knows she could do it. She was fast, a lot of people were watching her, they said she's fast."
Mercedes, who dreams of turning pro, considers that race and the two qualifiers leading up to it her biggest accomplishments so far.
Her mom, Kelly, couldn't be prouder.
"Every qualifier and regional that she went to so far, she took first," Kelly says. "And some of the girls that she competes against in the Mainland, they're in the magazines already, and she beat 'em all. So you know the potential."
Gribbon, her trainer, describes Mercedes as a natural who will only improve with experience.
"When I first saw her riding ... and she took off her helmet and it was a girl, I was like,
Page 1 of 2 pages for this story 1 2 >
Most Recent Comment(s):