The Club of Champions
The Waianae Boxing Club survives the loss of PAL funding and continues its proud heritage under Coach Fred Pereira of producing champions, including several youth world champs
Jonathan Dinong hits the speedbag
Step into the Waianae Recreation Center any weekday evening and for a moment you'll enter a world of kids and young adults who love to box.
"It gives me a high," says Johnavan Vistante of the Waianae Boxing Club, who last month won the 141-pound division at the Desert Showdown Invitational Amateur Boxing Championship in California.
"People get butterflies," Vistante says. "I get an ice ball in my stomach. And as soon as I throw the first punch, the ice ball explodes and just gives me that high that I like."
Others, like super heavyweight Noa Suiaunoa and junior fly-weight Jonathan Dinong, call boxing their passion. Dinong won championships in both the Desert Showdown and the 2005 Ringside World Championship in Kansas City, which bills itself as the world's largest amateur boxing event.
"You just have to be smart," Dinong says. "Just got to train hard and relax. Don't be too tense and (have) the feeling to win, like you want to win."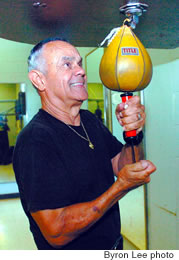 Fred Pereira keeps the speed bag,
and his kids, pumped up
Freddie Pereira, who founded the Waianae Boxing Club 41 years ago - 43 if you count those two years in his garage - keeps the rules simple for his fighters. And the golden rule for the young ones is: School comes first.
"If we got to do homework, we have to do it first before we train," says Dinong, who does-n't seem to mind. He's hoping that a combination of success in school and in the ring will land him a college scholarship, as it did for his former teammate, Samson Guillermo, who studies at Northern Michigan University.
Pereira's coaching philosophy is as simple as his golden rule: "Hit and don't get hit," he says.
Simplicity seems to pay off. In August, Pereira took five boxers to Ringside, three won championships. Last month, he took nine boxers to Desert Showdown, three won belts and five were runner-ups.
Among the winners were two of his grandchildren, Antone Pereira, 14, who won a belt at Desert Showdown, and Jada Pereira, 10, who brought home an amateur boxing world championship from Ringside.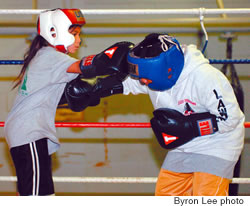 Jada Periera, left, spars with Lawrence Paelma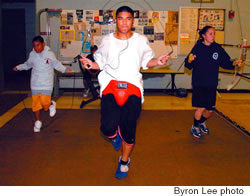 Lawrence Paelma, Carlos Tangero and Hannah
Smith jump rope
Jada says a right jab helped her win. "I fought the girl and made her nose bleed, and I made her cry," the fifth-grader says.
And no, you don't have to be tough to be a female boxer, she says. "You just have to be in shape. You have to train and run everyday to work your leg muscles. We run the (Waianae) Intermediate field 10 times. Everybody does that every day."
For Jada, who once weighed in 15 pounds less than her opponent, gaining weight is important. "But usually I only eat vegetables so I don't gain nothing," she says. "I love vegetables."
Pereira, known as "Papa Fred" to the younger kids, says he's "so proud" of Antone and Jada. "I never really pushed them, they just hang around, hit the bag," he says. "I paid no attention, but they look around, they watch, and they copy the older boys and ... next thing you know, they're asking me (to teach them). I tell them if you want to you're going to have to train a little bit harder and run. They say 'OK,' and they do exactly what I ask them to do. It works out pretty good."
Waianae Boxing Club has had a shining past. Just look on the center's walls.
"Waianae's Alex, Jeff Pelen win (Golden Glove) crowns" reads one headline. And there's the clippings of Julio Rodriguez, who in 1976 became the first Hawaii boxer to win the National Golden Gloves. He would have competed in the 1976 Montreal Olympics but broke his hand while sparring. His replacement on the Olympic team was Leo Randolph, who ended up winning the gold. "(Rodriguez) was in my house when (Randolph) won and they raised his hand," Pereira recalls. "They were putting the medal on him, Julio Rodriguez just stayed there and the tears just rolled down his eyes. He knew that was his gold. I felt so bad. I wanted it as bad as he did."
Some of Pereira's boxers have dreams of turning pro. Jeffrey Pelen Jr., son of former profes-
Page 1 of 2 pages for this story 1 2 >
Most Recent Comment(s):