The Filipino Martial Art
Escrima, an ancient martial art of the Philippines that was once banned and is still kept secret by many practitioners, lives on with a Honolulu grandmaster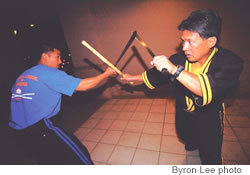 Takahashi's son Ty Keoni will one day
succeed him as grand master
Tyrone Takahashi, a grand master in the Filipino martial art of escrima, retreats to a solitary corner during class and, facing the wall, performs a knife dance, or "caranza," using a 26-inch blade. The weapon is fierce, but the movement is graceful, fluid and rhythmic.
"Flowery," he says, "because the blade is all over you."
Takahashi, the third generation grand master of Pedoy's School of Escrima, based in Waipahu with branches in Honolulu and San Diego, says the dance helps him to practice his rhythm and timing. "Usually when we do demonstrations, I do the caranza. I have to keep myself in tune."
As the state's year-long Filipino Centennial Celebration continues, Takahashi is expanding his school's reach in hopes of letting "the people of Hawaii know there is a martial art that exists of the Filipino ancestry."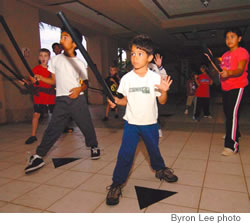 Corban Welter, Gilead Spence, Niel Spence and
Sarina Girangaya get their first taste of escrima
using padded sticks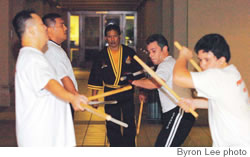 Greg Leong, Anthony Tanare, Abraham Rosario
and Jordan Adaro practice with machetes and
sticks under the watchful eye of grandmaster
Tyron Takahashi.
His school is offering for the first time escrima training for children, who use padded sticks. Twelve students showed up at the inaugural class last Tuesday, including Corban Welter of Kapolei, who found the footwork a little tricky, but wants to keep at it; and 10-year-old Sarina Girangaya of Kaneohe, who says she learned how to strike with a stick in two positions. Of her grand master, she says: "He's great. ... He helps us, and if we're having a hard time he shows us what's right."
The school is also organizing in conjunction with the centennial celebration, a full-contact international escrima tournament to be held Oct. 14 and 15 at the Filipino Community Center. Arnis and kali styles of escrima will be included.
"We're inviting all the schools in the island and in the state of Hawaii," Takahashi says, estimating there are seven schools statewide. "And also we have schools coming in from the U.S. mainland and from different countries, from the Philippines, Germany, Australia, France. ... We're trying to get everybody to come out and participate."
Escrima's history in the Philippines stretches back to 200 A.D. when "Arab traders brought bladed metallic weapons and a fluid style of fighting to the islands," according to the school's Website. The art was further influenced by the Chinese, Japanese and Spanish martial arts. Another enduring influence occurred in the 16th Century when Spanish colonists banned escrima as a deadly art. That forced it underground, where it survived disguised in dances.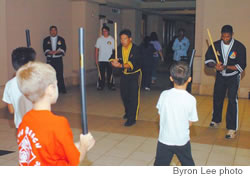 Takahashi and Glen Spence teach first day
students how to pay respect to senior escrima
members
That centuries-old mindset of secrecy has bled into the present. After establishing his school in 1961, it took a decade for Takahashi's grandfather, Braulio Pedoy, to bring his teachings to the public. And when he did, in the 1970s, he was the first in Hawaii to do so, Takahashi says.
"Even today, a lot of the escrima masters around, they still keep it to themselves," he says. "So many of them don't even give it to their families - they die with it. That's the sad thing because at one time escrima was a dying art. All the masters were dying and the art wasn't passed down from generation to generation."
Pedoy, who immigrated to Hawaii in 1924, learned escrima
Page 1 of 2 pages for this story 1 2 >
Most Recent Comment(s):