The New Game In Town
Hawaii's first youth lacrosse program started with just eight kids four years ago and is now up to more than 200, making it Hawaii's — as well as the nation's — fastest growing sport

Wednesday - October 25, 2006
By
.(JavaScript must be enabled to view this email address)
E-mail this story | Print this page | Archive | RSS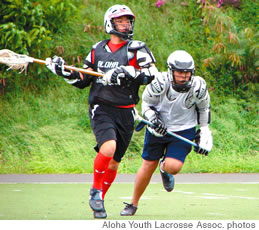 Craig Yugawa (running with the ball) and Aaron
Dyogi
Exciting. Intoxicating. Addictive. Pure stoke. These are just a few of the words that youngsters and adults alike are using to describe their enthusiasm for lacrosse, the fastest growing sport in the nation. And Hawaii is no exception to this latest rage.
Ten-year-old Grant Overton, who has been playing with a Honolulu-based team for three years, explains what makes the game so compelling.
"At first I liked the gear, but now I like the whole experience - getting on the field and playing with the team. It's a really fun game, and I think every kid should try it. Girls like it too."
Girls do, indeed, enjoy the new craze.
"It's a really fast game and you get to run really hard," says 8-year-old Aurora Bunten. "You're trying really hard to catch the ball, and when you finally catch it in your stick and make a goal, it feels really good."
Sarah Murayama, a 12-year-old in her third season, explains her attraction to the sport.
"It's a great experience," she says. "I like the feeling you get when you step onto the field. It's a lot of fun whether you're cheering your team on or you're out there playing."
Allyson Mizumoto-Gitter has her reasons for loving the game.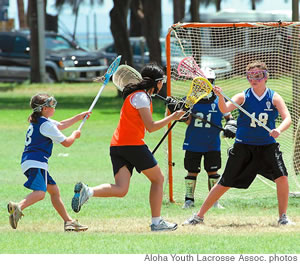 Janie Schaefer, Lauren Hennessy (with ball), Alexandra
Haig (defender) and Sarah Berg (goalie)
"It's a fun way to get to know other people," says the 16-year-old. "And we play at a nice time of year."
The sport, which involves catching and projecting a ball using a net attached to the top of a stick, was first played hundreds of years ago by Native Americans, but the game has changed significantly over the centuries. While the ancient game sometimes consisted of up to 1,000 players on each team and goals that were sometimes separated by several miles (see www.laxhistory.com), today's game employs 12 players on the field for the girls'teams and 10 for the boys. Modern lacrosse is described as having similarities to ice hockey, soccer and basketball.
The sport has been popular on the East Coast for decades, but has only recently gained mainstream popularity.
"Lacrosse broke (out of its east ern niche) 20 to 30 years ago," says Aloha Youth Lacrosse Association vice president Jeff Overton. "It was more of a prep school specialty game in upstate New York, New England and the mid-Atlantic, and it started to cross into the public schools and spread its way west."
The Schaefer family from Rhode Island has been a key factor in the growth of youth lacrosse on Oahu.
"When I lived on the Mainland, I used to get excited about games and being with my team," explains Rudie Schaefer V, a 17-year-old junior at Punahou.
"The one disappointing thing about moving out here was that there was no lacrosse," says his dad, Rudie Schaefer IV, president of AYLA. "So I said, 'Well, if they don't have it, we'll start it.'"
And that's exactly what they did. "After living in Hawaii for four years and spreading lacrosse here," explains the son, "what's really exciting is seeing new people play and seeing my friends join. People who try it have lots of fun doing it."
Rudie (the son) has become a star player and his enthusiasm has proved contagious.
"Rudie is probably our top prospect headed for college next year," says Overton. "Most people can only dream to play lacrosse in high school like Rudie."
The dedication of a small group of youth lacrosse founders on the island, including the Schaefer and Overton families, has paved the way for many more youngsters to seriously pursue lacrosse as their sport of choice into college and beyond.
From a group of just eight players four years ago, AYLA has increased to more than 200 players today, and the number is steadily growing. Girls' teams are especially taking off.
"Right now we have a real surge in the girls' program, and this is mirroring what we are seeing on the Mainland," said Overton. "In the last five years it has just rocketed. It's not just a guys'bang-itup kind of game. There is a real grace to the way the women's game is played. It's elegant to watch."
The sport is exploding at the college level as well. Because of Title IX, which ensures funding for women's college sports, there is significant scholarship money in the girls' programs.
Lacrosse is not yet a high school sanctioned sport on the island, but AYLA has been hosting high school-level teams. Last spring, there were two teams based out of Kapolei High School, one from Honolulu and a Windward team based out of Le Jardin. There were also teams in the first-third, fourth-sixth and seventh-eighth grade divisions. Judging by the great turnout at recent AYLA youth clinics, Overton expects the numbers of teams across the island to grow. This year, new teams are expected out of Ewa and Pearl City.
Because lacrosse is not played year round, enrolling doesn't mean giving up other sports.
"We encourage kids to play other sports," says Overton. "You'll never know what you're best in if you haven't been out there trying different things."
Nevertheless, while the students and coaches interviewed had all tried other sports, lacrosse dominated as a favorite.
"I like lacrosse more than anything else I play because it involves more teamwork," says Rudie Schaefer V, who is currently wrestling on Punahou's varsity team. "For those people who want that competitive edge, it's definitely there, but lacrosse is refreshing because it's not over-the-top, where you're really bummed about losing."
Overton further describes what draws youth to lacrosse.
"There is constant action," he says. "And with the scoring, you're getting eight to 12 goals a game on each side. Every five minutes there's kind of an event."
Coaches and players stressed unanimously that the most exciting thing about the game is simply that it is fun.
"Because the game is so new here, there isn't the intimidation factor of 'I haven't played any sport in a long time'or 'I haven't played this before,'" says girls' coach Jenny Caruso. "My answer is, 'Heck, nobody here has played before, so come on out.'
"It's fun to fire up these juniors," adds Caruso. "It's really neat to see the wide eyes of really good athletes, not-so-great athletes, young kids, older kids and parents, too. And there's not a lot of that crazy parental interaction because parents don't know the game. They have no idea what the rules are or the goal of it all, so they just cheer."
Kids especially like the cool gear. Boys wear padding and helmets for protection, while the girls' game involves less contact, so they only need goggles, a mouth guard and a stick to get started.
Page 1 of 2 pages for this story 1 2 >
Most Recent Comment(s):