The Shape Of Things To Come
After a scare late last year, Hawaii surfboard shapers are finding new sources for foam blanks, and that's good news for surfers

Wednesday - September 06, 2006
By
.(JavaScript must be enabled to view this email address)
E-mail this story | Print this page | Archive | RSS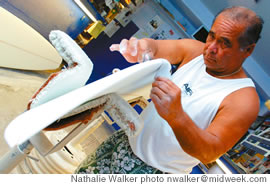 Ben Aipa: The godfather of Hawaii surfboard shapers
got into the business accidentally
From the casual waverider to the top-competitive surfer - these thrill-seekers have more than just a love for the ocean in common. Chances are that the board they ride began as a foam blank - and until about a year ago those blanks came from a California company, Clark Foam.
When Clark, the supplier of unshaped blanks for about 90 percent of all custom-made surfboards purchased worldwide, closed in December 2005, it left a ding in the surfing world - not only for the shapers who were left with the void, but also for the surfers who now have to shell out a little more cash for a board.
"Clark Foam monopolized the business, other than that, there was only one other place in the U.S. called Walker Foam, and they couldn't even supply because they weren't built to service big numbers of orders," says legendary Hawaii board-shaper Ben Aipa. "When Clark Foam went down, to me it was a blessing because it opened up more selection."
Adds shaper Kent Senatore: "In the long run I think it's going to be positive because I foresee a price war, because I keep hearing about all these companies that will be making blanks."
The surfing world is slowly recovering from the initial blow of inflated foam prices from other companies combined with scarcity of supplies. And with Australian foam now being made available in Hawaii, and other companies starting up, it's making it a little easier for shapers to get back on track.
"Right now I'm using the Australian foam, and really right now we're tripping over foam," says Aipa. "Before the year is over there's probably going to be over 12 brands of foam."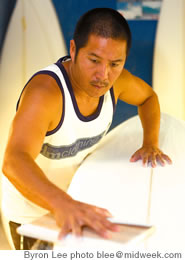 Darren Tatsuno: utilizing pro surf
tour experience
In addition to quantity, the closing of Clark Foam also left questions as to whether the new companies would be able to provide blanks of equal quality. Many news reports speculated that new foam blanks being produced just wouldn't match up. But shapers agree that it's been no problem finding blanks with equal if not better quality.
"I want to say the foam I'm using now is better than the Clark Foam, but I haven't spent enough time with this foam yet," says Aipa. "But for what I'm using and what I'm getting, I'm really satisfied with it."
To offset the higher foam prices and fiberglass prices, shapers have had to increase board sales anywhere from 10 to 30 percent.
"Internationally it's about 20 percent down in sales, and this is not just Hawaii, this is Japan,Australia," says shaper Darren Tatsuno. "It's the surf industry as a whole, it dropped 20 percent."
"My boards have gone up like 10 to 20 percent, and I think it will stay like this for a while until these blank companies really get their operations in place," adds shaper Jon B. Mar. "Then there'll be some price wars going on."
With foam now available from Australia and new companies emerging, shapers are finding that much like surfing - the more the merrier.
Here's a quick peek into the shaping rooms of some great shapers including Ben Aipa, Jon B. Mar, Kent Senatore, Darren Tatsuno and Kimo Greene.
Ben Aipa Contact: www.benaipa.com
Q: When did you start shaping and how did you get into it?
A: I started shaping at the age of 24, 25 and I didn't plan on it. I was riding a surfboard that was made by this guy who had a surf shop at the time, and he had some extra surf blanks that were cheap so he asked me to try shape my own board. It took me eight hours, and when I finished it, I was, like wow. But actually it wasn't wow. And that's how I started.
Q: What do you think makes your boards unique?
A: I think I'm not a follower. If I follow anything I follow the surfers because that's the people who actually create the design. And I just see this. I don't plan on it and sit on a desk and do a drawing. I just see an everyday surfer trying to do something and maybe there's something missing on the board, and I go right in from there. I'm still doing it, and I've been doing it since 1965.
Q: Who are some well-known surfers you've shaped for?
Page 1 of 2 pages for this story 1 2 >
Most Recent Comment(s):