Total Bull
It's the top cowboys vs. top bulls at the Cheeseburger Island Style PBR Hawaii All Star Challenge at the Blaisdell this weekend, and it's guaranteed to get down and dirty

Wednesday - November 15, 2006
By
.(JavaScript must be enabled to view this email address)
E-mail this story | Print this page | Archive | RSS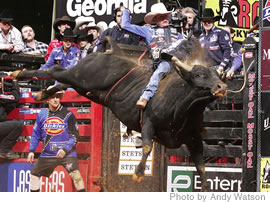 Guilherme Marchi cannot conquer Mossy Oak
Mudslinger
Get your boots, your chaps and your cowboy hats ready. This ain't no sissy barrel race - this is bull-riding, the toughest sport on dirt. It's cowboys like two-time world champion Chris Shivers, 2005 PBR World Finals champion Guilherme Marchi and 2004 world champion and PBR World Finals champion Mike Lee going against animals born and bred for bad attitudes like Raisin Cain, Vertical Force, Satan's Own, Pandora's Box and Bobby Knight.
Not impressed with a sport where a ride that lasts no longer than a fraction of a minute is considered a success?
Think again.
"Eight seconds is a long time on the back of a bull," says Shivers. "It just depends on what bull you get on. If you get on a bull that's in time and has a lot of rhythm, it's not that long, but if you get on a bad sucker, then it seems like an eternity."
The animals working at the Cheeseburger Island Style PBR Hawaii All Star Challenge Friday and Saturday at the Blaisdell Arena are the baddest suckers in the lot. Which is good because so are the cowboys. This is an invitation-only event where being good is just not good enough. It's top cowboys and top bulls. And whoever remains standing at the end is the winner, in an event that Mark Nestlen, president of Cowboy Sports Agents, called "a violent eight-second race that is guaranteed to end in a crash" during the promotional tour in April.

Chris Shivers rides Frontier Rodeo Co. bull Silent
Angel for 86.3 points during the second round of
the 2006 Charleston, Built Ford Tough Event
Make no mistake about it, this is a tough business. Injuries aren't just common, they are expected. Ask any bullrider and he'll give you a laundry list of cuts, scrapes and bruises that'll make you think these guys are nuts.
And they may be.
What sane person considers broken bones to be minor injuries?
"I mean, shoot, life-threatening - you know, being paralyzed, breaking your back, breaking your neck," says Wailuku, Maui, bull-rider and PBR competitor Myron Duarte, describing what he considers an injury worth talking about.
"I had five surgeries in 14 months and still competed. I had meniscus surgery on my knee and competed 10 days after that. A major injury is something that's going to sit you down for six months or longer. A broken arm? Heck, I broke my arm, had a plate and seven pins in it, and competed two weeks later at the national finals rodeo. Yes, that's a major injury, but the way most bullriders look at it that's an injury that is there, but you can still compete. It's not where it takes you out of competition."
Shivers concurs. Pain is nothing but a nuisance.
"I've had quite a few broken bones. I've had bulls fall on me and roll on me, stuff like that, and we learn to adapt."
And how exactly does one get used to having 1,500 pounds of barbecue on the hoof land on top of you?
"Well, I don't know if you really adapt to it. It's just something that could happen, and we know it's not something we look forward to, but that we can deal with if it happens.
"You know, if it don't cripple you for life, you're good to go. I've known people who have gotten killed. We are not promised tomorrow, so I'll just drive until the wheels fall off."
Which has got to make those back home feel secure, but Shivers says that's not much of
Page 1 of 2 pages for this story 1 2 >
Most Recent Comment(s):