Tsunami Aid: One Bucket At A Time

Wednesday - May 12, 2005
By
.(JavaScript must be enabled to view this email address)
E-mail this story | Print this page | Archive | RSS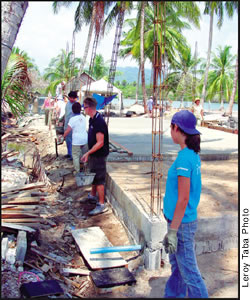 A 'bucket brigade' moves paving materials for a foundation
For now, he's back at his ceramics studio making pots, but Leroy Taba's heart is still with a small fishing village in Thailand, where he and other Hawaii residents went on a "bucket brigade" in April.
"Our goal was not only to build structures, but to build relationships," says the Kaneohe artist, "and we were able to establish friendships with people that I look forward to seeing again in the future."
One of them was a college student — a fellow volunteer with a common interest in ceramics. The man plans to visit Oahu this summer.
Taba, 59, linked up with his brother's Kauai church just days before they flew to tsunami-torn Phang Nga province. When he observed an 80-year-old friend who had gone on an earlier mission, he figured: "If he can do it, I can do it."
Representing Windward Missionary Church on Oahu, Taba took with him a willingness to work hard, plus some know-how on mixing cement and laying foundations.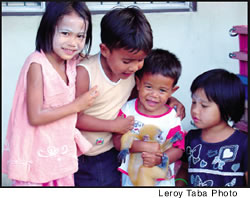 Children of the devastated village of Nai Rai
"It's definitely different that going to Las Vegas," he admits, referring to a frequent respite he and his wife Adele take. "This one, you come back thinking."
The village of Nai Rai, located about an hour north of Phuket on Thailand's southern "tail," was leveled by the Dec. 26 tsunami that tore through South Asia. Joining with other relief workers, the Hawaii group's immediate goal was to rebuild some of the 107 homes that were swept away on that tragic day.
"Due to the lack of heavy equipment, most of the work consisted of cleaning rubble left by the tsunami, digging trenches, moving piles of earth and sand, and pouring cement," Taba explains. From early morning until the oppressive heat set in mid-day, the chaingang lineup lasted for two weeks straight (April 5-20).
"All this was done by hand, by shovel and baskets, and by bucket brigades lined up for the entire length of the house."
The church group had nice, air-conditioned rooms in Phang Nga City and rose each day at 4:30. They gobbled up breakfast and hopped in a rented van by 6 a.m. for the one-hour drive to their coastal worksite.
"We wanted to show them that we cared and that we were there to work."
After they left, other volunteers would take their place and install the windows, supports and roofing.
"As I speak," Taba says, "other teams are still toiling in the sun in Thailand, with more teams arriving to try to make a dent in the work to be done."
The town's pull is strong on Taba, who is seriously talking with friends here about a return trip this summer. To help finance it, he's considering selling some property here. (Volunteers pay their own way, he says, which is about $1,300 per person.)
"Wherever the Lord leads, that's where you go," he says simply. In fact, Taba was led to Thailand once before in 1969- 70 — by Uncle Sam and the U.S. Army during the Vietnam War.
As a group, Taba, his colleagues and his two brothers from Kalaheo Missionary Church on Kauai also took care to respect the strict religious code of conduct in Nai Rai, which meant dressing modestly and not proselytizing. He did observe "a few ugly Americans" in the area, however. They were a closed community before the tsunami," Taba adds, "but they opened up to us." Phang Nga Christian Church, already in the community for 10 years, prepared the Hawaii group for the culture clash and eased them into useful tasks.
Perhaps unique among the foreigners, Hawaii's volunteers could care less about relaxing on Thailand's lovely beaches. "We had no desire to be at the beach," Taba recalls. "The water was warm and held no appeal for us. We're accustomed to cooler waters and beaches just as beautiful."
The shoreline village of about 700 had only one death from the wave, but a new resort area to the north, Khao Lak, lost thousands, Taba says, and it was still reeling last month in leaderless chaos.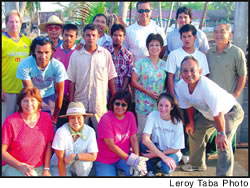 Leroy Taba (front right) and other members of
the tsunami relief team
"It wasn't so much the water that did the damage," he explains, "but all the buildings and boats knocking into things." The wave lifted heavy boats and flung some of them a mile inland where they landed on and crushed other structures.
Speaking of boats, Taba says some relief agencies were competing to see who could build the most boats!
Whether its roots are politics or simply a caring spirit, Nai Rai's helping hands will soon have a new fleet ready for the village fishermen to reclaim their livelihood. Housed in temporary wooden shelters, villagers have begun to put their lives back together with help from countless volunteers from all over the world.
Page 1 of 1 pages for this story
Most Recent Comment(s):