Uncle K's Show
Kahauanu Lake will again produce the Hawaiian Music Hall of Fame concert
Wednesday - June 02, 2005
By
.(JavaScript must be enabled to view this email address)
E-mail this story | Print this page | Archive | RSS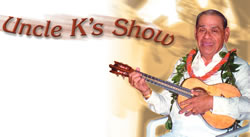 There is one big difference for Kahauanu Lake in producing the annual Hawaiian Music Hall of Fame concert. This year Uncle K, as he's affectionately called, is a member of the Hall of Fame.
Last year, he was the surprise honoree. It was a surprise because he's been on the board of advisory selection committee since 1995, and fellow board members unanimously nominated him to the Hall of Fame. They include Haunani Apoliona, Mahiai Beamer, Nina Kealiiwahamana, Aaron Mahi, Harry B. Soria and Kaina Waiau.
The 10th anniversary concert happens June 7 at the Hawaii Theatre, starting at 7:30 p.m.
"I think it's a compliment when the board decided to elect him to the Hawaiian Music Hall of Fame," says Kealiiwahamana, who was his neighbor when she lived on 18th and Kilauea. Imagine the neighborhood jams! "He has a take-charge attitude, so there's no doubt about what you need to do and that you will be doing it.
"We had a meeting without him and turned the tables on him. When we told him he was going to be an honoree, he said, 'Huh?' He knew we meant it sincerely for all that he has done for music and for the Hall of Fame." OHA trustee Apoliona, who performs with Olomana, is among his fans.
"I've always viewed his work as striving for excellence; whatever he does, he strives for excellence," Apoliona says. "He is a great role model. You don't have to see him play, you can just listen to the way he plays. He has distinguished himself.
"He has been able to gather Hawaiian musicians that may not have gathered. He is the glue that holds the Hawaiian Music Hall of Fame together. He has the vision, resolve and focus. It is a fine tribute to his life's work. And his recordings, they are still as fresh as they were when they were recorded."
But being a member of the Hall of Fame doesn't mean retirement or even taking it easy. So the 73- year-old legendary singer, composer and band leader of the Kahauanu Lake Trio will again be producing the Hall of Fame show and doing what he's always done — perpetuating the Hawaiian language and culture through music.
His unique ukulele style is immediately recognizable. The lilting sounds of the harmonies created by the Kahauanu Lake Trio touch people's hearts, makes them want to sing and dance a hula.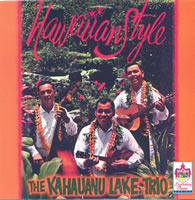 While no entertainers are being inducted into the Hall of Fame this year, the annual concert will recognize more than 30 of the past honorees of the organization. The theme of the 10th anniversary concert is Na Ilina, which means "the recipients." Performers include Mahi and Gaye Beamer, Nina Kealiiwahamana, Emma Veary and Genoa Keawe. The festive evening also showcases Gary Aiko, Randy Hongo, Harry Soria, Paahana, Kamehameha Alumni Glee Club, the Kahauanu Lake Singers, Hawea Waiau and son Kaina, Na Wahine Kuikawa, Ardis Gomes,Kula Abiva, Piilani Smith and Na Kipuupuu.
"Uncle K" majored in business administration at St. Mary's College in California and served for two years as a sergeant in the Army with the 72nd Tank Battalion, 2nd Division, during the Korean War.
The Kahauanu Lake Trio was a remarkable group, each member contributing vocals. Besides Lake,who attended St. Louis High School and graduated from St. Anthony on Maui, the trio included his older brother, Tommy, a St. Louis grad who played bass, and Al Machida, a Kamehameha grad who played guitar. They started in 1955 at the Halekulani, where they played for 10 years. They moved down the beach and delighted audiences at the Kaimana Beach Hotel for about four years. The Surf Room at the Royal Hawaiian Hotel called, and that was the group's base for the next 15 years, until 1986. During those times, the trio produced eight albums.
"They're still selling wonderfully after 40 years," says the gleeful master, who also toured the world with his group after the Royal Hawaiian Hotel gig was up.
Mapuana Schneider, who danced hula as a soloist with the Kahauanu Lake Trio for about 10 years, says she learned so many things from Uncle K.
"He dictated the best out of all of us," Schneider says of her days gliding across the stage. "He was very strict. We were always on time and professional in what we were doing — bringing Hawaiiana to the world. He knew how to present it and when to present it. That was a glamorous time to be part of the music scene in Waikiki. Dancing with Kahauanu Lake is as good as it gets for a dancer."
He married kumu hula Margaret Maiki Aiu in 1972. She was also known for her quest for knowledge and excellence in Hawaiian culture. Together, they did many shows and concerts until she passed away in 1984.
Music has been a part of Lake's life as far back as he can remember.
"I've been a musician since I was 4 years old," he recalls. Surrounded by musicians his whole life, Lake says he played all the Hawaiian songs. Those near him in his formative years include Aunty Vicky Ii Rodrigues, Mae Lobenstein, Aunty Lei Collins, who was Uncle Bill Lincoln's cousin. John Almeida was popular, and one of the top songs was Papalina Lahi Lahi.
Lake shares more about other influences on his music.
"Maddy (Lam) was like an aunt to me," he says. "We played together and she had her own recording company. She started writing music together with Mary Kawena Pukui — there isn't any as good as those two as a team."
Lam and Pukui were asked to write a song they called Pua Ahihi, and they wanted the Kahauanu Lake Trio to sing it. It's still a popular song today. One of Lake's most requested compositions is Pua Lililehua. Lake often checked with Pukui, who co-wrote the Hawaiian dictionary, on correct usage of Hawaiian language for his compositions.
Raised by his mom, Cecilia Kuliaikanuu Parker (a descendent of Kamehameha the Great), and stepfather, Prince David Kalakaua Kawananakoa, Lake honored his mother by composing a song for her called Kuliaikanuu. And he named his album the same. His mother's stepmother was with the Royal Hawaiian Band. Lake is the youngest of three siblings. He has an older sister, Helen Nani Howell, and, of course, his brother, Tommy, who is two years older to the day — they both were born on Jan. 2.
Even with a busy music career, Lake also made the time to teach others his craft. He trained Kamualai W. Kawaiaea to play ukulele from the time he was a 15-year-old St. Louis student in 1966. Kawaiaea, George Helm and Wayne Reis were among his first students, whom he refers to as the Na Opio Trio. Kawaiaea says he adopted Lake as a father.
Lake formed the Kahauanu Lake Singers in 1997 to carry on his legacy. The singers consisted of Kawaieae and his wife, Luana, and Vernamae Perkins, who passed away April 17. Presently, the Kahauanu Lake Singers are the Kawaiaeas and Mitchell "Akau Hoku" Miles, a Hawaiian language teacher at St. Louis.
These days Kawaiaea is also teaching music and ukulele using the Kahauanu Lake method.
"The mission is to keep alive traditional Hawaiian music," says Kawaiaea.
And that's exactly what Lake is hoping to accomplish when he and brother Tommy join the Kahauanu Lake Singers at the Hawaii Theatre June 7. Tickets are $20-$25. For tickets, call the Hawaii Theatre Box office at 528- 0506.
Page 1 of 1 pages for this story
Most Recent Comment(s):
Commenting is not available in this weblog entry.