Where Ballet Stars Are Made
Mairi Bell, 17, the latest protege of John Landovsky and the Hawaii State Ballet, dances the lead roll of the Sugar Plum Fairy in 'Nutcracker' beginning this weekend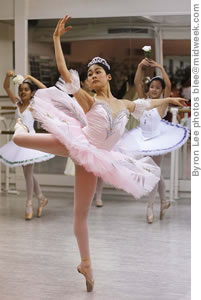 As she once followed Amanda Schull
and Romi Beppu, younger dancers
now learn from Mairi Bell
If 17-year-old Mairi Bell were to write down her daily schedule, it might go something like this: "Get up in the morning and go to school. Leave school and head over to Hawaii State Ballet Studio by 3 p.m. Rehearse for a few hours. Go home and get some shut-eye." That's pretty much life in a nutshell for this teen ballerina.
Bell is a senior at La Pietra School for Girls, as well as an aspiring professional ballet dancer. Beginning this Friday, Dec. 8, you'll find her dancing the part of the Sugar Plum Fairy in the Hawaii State Ballet's annual holiday production of The Nutcracker at Mamiya Theatre on the Saint Louis High School/ Chaminade University campus.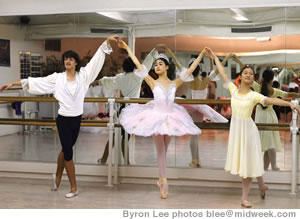 Spencer Keith, Mairi Bell and Erica Wong rehearse
'Nutcracker' at the Hawaii State Ballet studio
"I've been doing Sugar Plum for the past three years, been doing Nutcracker every year," she says, adding that while experience is on her side, she still gets butterflies in her stomach when she thinks about taking the stage for an audience.
"I guess I'm more nervous this year than any other year, because it's my last year. I feel the pressure. (I've been) doing the whole thing since I was 6."
Along with this annual production comes a more rigorous rehearsal schedule, which does-n't seem to phase the very focused young dancer.
"I manage to work it out," she says. "It's hard, especially because we're rehearsing late at night, (but) I'm pretty used to it. I don't really enjoy going out that much."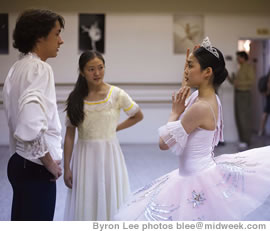 Keith,Wong and Bell discuss their choreography
At age 4, Bell began her dancing career, sort of by accident.
"It just happened. My real dad used to dance, he didn't push me into it, though. My friend was in ballet," she recalls, adding that the first few times she attended classes, "I just stood there. I had my hair up and was ready, but didn't do anything."
These days, Bell is more than ready to dance. She normally dances six days a week, three to four hours a day. When it's "Nutcracker time," practice bumps up to five or six hours a day.
Also, both this year and last she sent in a video showcasing her dancing, for a chance to compete in the Youth America Grand Prix in New York. She didn't walk away with first place, but the experience opened her eyes to a whole new world of ballet.
"I didn't win anything, I learned a lot though," says the 5-foot-3-inch ballerina. "It's a competition for people to get to see you, to meet people your age. I saw some of the same people (in New York) I saw in Varna of Bulgaria - it's an international ballet competition, it was the first ballet competition in the world several decades ago."
Beyond the various competitions and anything she does on the local level, Bell wants to eventually join a ballet company, allowing her career to skyrocket.
"Hopefully one day I'll join a company. You go to different places and they either take you or they don't. You can't start off thinking big," says the practical teen.
Most dancers tend to start off at a small company to grow and get to know people, she explains, normally on the Mainland somewhere where there's more opportunity than here in Hawaii.
Bell has been taken under the wing of acclaimed ballet coach John Landovsky, the artistic director of the Hawaii State Ballet, something of which she is extremely proud. During his time at Hawaii State Ballet, Landovsky has produced a couple of the country's young ballet stars, including Romi Beppu and Amanda Schull, both Hawaii natives. Beppu is a principal dancer with the
Page 1 of 2 pages for this story 1 2 >
Most Recent Comment(s):