You Surf, Girl!
Saturday morning surfing the waves off Waikiki, and life is good - good and getting better as sunny skies push away the drizzle. And the waves, nonexistent when we arrive, slowly begin to swell to 1-2 feet Hawaiian scale.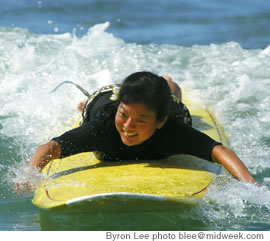 The author paddles out to catch her first wave
Saturday morning surfing the waves off Waikiki, and life is good - good and getting better as sunny skies push away the drizzle. And the waves, nonexistent when we arrive, slowly begin to swell to 1-2 feet Hawaiian scale. Today's surf lesson comes courtesy of instructors Cherry Fu and Heather Kikkawa of Girls Who Surf, a Honolulu-based surfing school that's more than just for girls.
Men, women and boys of all skill levels learn from the Girls. If you book online, you can select from "Baby surfer," if you're like me and have no experience, up to "Lifetime surfer," for those who've surfed for more than three decades. Still, there's no denying that its biggest fans are young girls.
"They love us. They go surfing with us and they want the shirts and the hats and the stickers," says Fu, who named her company after her own lifestyle.
"Girls who surf tend to be confident and active - intent," she says. The 26-year-old Boston native left home seeking adventure in Hawaii after graduating from Harvard University four years ago. And today, 15 months after launching her business on a part-time basis, she's doing it full time with three employees and an intern, "and it feels like I can't work fast enough," she says, with her infectious laugh.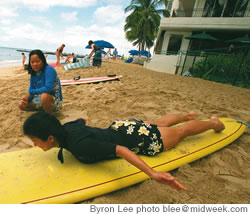 Cherry Fu, Girls Who Surf instructor, gives
step-by-step instruction to the author, a
'baby surfer'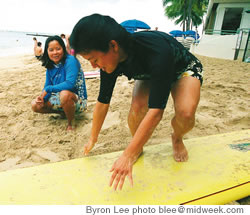 Learning how to stand up on the longboard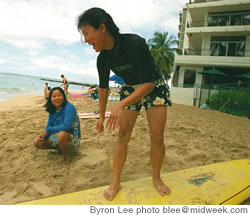 Now it's time to try it in the water
Out on the water, 11-year-old Pele Levy-Strauss, a visitor from the Marshall Islands, is having her fourth surfing lesson with the Girls. Thrilled to catch a wave, she lets out a "Whoo-hoo!"
"(Levy-Strauss) told us it was easy, and then we got her a smaller board and took her to bigger waves," Fu says. "We keep it challenging for people even if they catch on quick, even if they're good. So that's just to say that no matter how good they are that the value of our instruction is to help them get better."
Kikkawa, a part-time instructor who's also a City and County lifeguard, takes turns with Fu pushing me ahead of promising waves. "Paddle two arms," she says. There's rarely a beginner who can do it themselves, Levy-Strauss being the exception. "She's tall," Kikkawa says. "She's the only one I can feel pulling against me when I'm holding the board."
Tourists, such as Levy-Strauss, account for 90 percent of the surf school's business; locals come in smaller numbers. But that may change as Girls Who Surf starts in August a $50 per person kamaaina rate for a two-hour class, to be offered one day a month. That's in addition to its everyday kamaaina rate of $75 for two hours. In comparison, individual rates are $140 for the three-hour signature package and $110 for the two-hour basic lesson. Students may also purchase video CDs of their surf session for $20.
Here to learn from scratch, I'm told conditions couldn't be better for a beginner. "Not too much wind, not too big and not too many other people," Fu says. She introduces me to my ride for the day: a bright-yellow, 12-foot longboard that feels as sturdy as a boat.
"It's really huge, but it's your first time, and for first-timers we bring the longboard so you can have a ride," she says.
"We say it's good for the confidence and bad for the ego, because especially guys, they want to ride shortboards and they struggle."
Propelled forward by Fu and picked up by my first swell, I hear her calmly ask from the other side of the wave, "Do you want to stand up?"
"OK, I'll try," I answer with equal equanimity.
Standing up went just like how she taught me on the shore: "Put your hands on the sides of the board. Down low by your hips. Push yourself up. Put your left foot up front, and the right foot behind." And boom! I was surfing atop this great, big yellow board whose hugeness I didn't mind but really came to appreciate for its steadiness. Once, when the board was pointing left to right, instead of straight to shore, the wave swept me and the board along. Managing to turn the monster, I caught a surprise ride in. The long-board, I came to see, is built for success.
"That's actually really thrilling for us when you can catch your own waves, and that's what we feel really proud of is when our people catch their own waves," Fu says. "We don't expect it, but when they do it on their first time, that's like really awesome."
Upcoming events: Sept. 9-10 and 16-17 - Girls Who Surf will offer workshops at discounted rates as part of the third annual Girl Fest Hawaii, which aims to prevent violence against women and girls.
Sept. 30-Oct. 1 - Inaugural Girls Who Surf Amateur Contest & Fun Day at Kewalo Bowls. For girl surfers only. Prizes and celebrity judges Town and Country team rider Helena Suehiro, Banzai Betty and Carissa Moore.
For more information, GirlsWhoSurf.com
Page 1 of 1 pages for this story
Most Recent Comment(s):