Zeno Hi-Tech Acne Zit Zapper
Zeno, a new device that looks like a cell phone, puts an end to pimples by applying non-invasive, bacteria-killing heat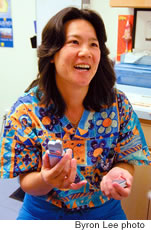 Dr. Chiu says the zit zapper
has been a popular Christmas
gift
Got zits? Have no fear - high-tech relief is in sight! Thanks to modern science, your popping, squeezing, toothpaste-remedy days are over. With a new product called "Zeno" on the market, those of us with acne are just minutes away from facing school picture day or going on that big date with clearer skin.
As of right now, the Zeno "Zit Zapper" is available from Dr. Linda Chiu, M.D., in Kailua.
"A lot of people are buying them as Christmas gifts because it's cheaper than an iPOD," Chiu says with a laugh.
The ear, nose and throat specialist (and facial plastic surgeon) adds that since the product's arrival in her office in September, patients have taken a chance on it and come back smiling.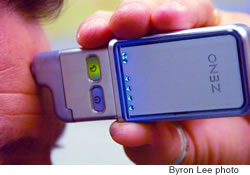 When the green light is on, the Zeno tip heats up
to 119.7 degrees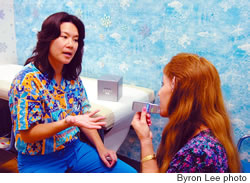 Kalae Carreira uses the Zeno under the guidance
of Dr. Linda Chiu
On Dec. 14 an Oahu woman purchased the Zeno in hopes of clearing away a zit on her chin and another on the right side of her face.
"It's very unfair to be 50 and have wrinkles and zits. At least I can get rid of one of the problems," she says while buying the Zeno.
While it resembles a cell phone in design, or perhaps a remote control device, the Zeno can't make any long-distance calls or change channels. It has only one function: getting rid of your blemishes. This over-the-counter, portable, hand-held electronic medical device turns on with the simple touch of a button. When its green light flashes, you place the tip right on your zit for two and a half minutes twice a day (once in the morning and once in the evening). Zeno comes equipped with a rechargeable battery, which usually needs to be powered up at least once a week.
The Zeno's tip is warm because of a filament inside that is heated to 119.7 degrees. A 16-bit microprocessor emits measured pulses of heat to kill the bacteria forming the zit below your skin. Through the magic of ClearPoint technology, in about 24 hours your zit should be no more. The tip is good for 90 treatments (or on 30-40 pimples) which amounts to a little over a month's worth of usage before a second tip is needed.
The tip should also be cleaned regularly.
Chiu explains that Zeno works best on mild to moderate acne. It can be used in conjunction with other acne medications or products, and even works through makeup. A zit doesn't have to be on your face for Zeno to clear it up. "(Zeno works) any place there's a pimple that's starting," Chiu says.
"I saw this device while at a facial plastic surgery meeting and noticed its potential," she recalls. "It was already becoming popular on the Mainland. We tested it here first with the office staff."
As great as the Zit Zapper is,
Page 1 of 2 pages for this story 1 2 >
Most Recent Comment(s):