A Big Win For Kapolei For Kapolei
Wednesday - November 01, 2006
By
.(JavaScript must be enabled to view this email address)
E-mail this story | Print this page | Comments (0) | Archive | RSS
|
Share

Del.icio.us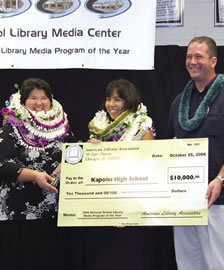 Kapolei High School Library media
specialists Carolyn Kirio and Sandra
Yamamoto accept a check from George
Dragich, the account manager for Follett
Library Resources. Photo by Vicky
Nakasone-Pagaoa.
Kapolei High School has received a crystal obelisk for winning the 2006 American Association of School Librarians National School Library Media Program of the Year Award under the single school category.
The win carries with it a $10,000 prize. The presentation, made last week in the Kapolei High School Library Media Center, recognizes the library for excellence in providing opportunities for students and teachers to achieve their goals.
"It's an award for everybody; we can't do it alone," said library media specialist Carolyn Kirio. "It's a recognition for our entire school and the state of Hawaii."
The school's outstanding library program is based on the Curriculum Construction Cookbook, which presents teachers with lesson plans for project-based learning.
Kirio said a possible use of the prize money would be professional development for the librarians.
Several distinguished guests attended the ceremony, where a representative from the award sponsors, Follett Library Resources, presented the obelisk along with an official certificate, and a congratulatory message from Sara Kelly Johns, president of the American Association of School Librarians. The message was read at the event. U.S. Rep. Neil Abercrombie, state Sen. Brian Kanno, and City Councilman Todd Apo joined the group on campus as did state Department of Education deputy superintendent Clayton Fujii, assistant superintendent Kathy Kawaguchi, and complex area superintendent Mamo Carreira. Library media specialist Sandy Yamamoto was also at the event along with staff and students.
The award was initially announced in June to Kapolei High's 2,343 students.
Most Recent Comment(s):