A Divine Computer Aid For Youths

Wednesday - December 12, 2007
By
.(JavaScript must be enabled to view this email address)
E-mail this story | Print this page | Comments (0) | Archive | RSS
|
Share

Del.icio.us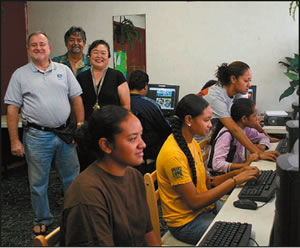 Ken Goldstein of Hawaii's Computers for Kids, Michael Rivero (a HCK volunteer who did the system configuration) and Pastor Colleen Chun beam at their packed new computer lab at Trinity United Methodist Church. At the computers are Lusitania 'Ofamooni, Kasanita 'Ofamooni and Kisaea 'Ofamooni being helped by Salote Lolohea. Photo from Michael Rivero.
The walls at Trinity United Methodist Church echo with constant clicks, clacks and buzzes. But these are welcomed noises from the Pearl City church's recently opened computer workroom, complete with five fully networked computers and a shared printer.
"The computers have already been named!" Pastor Colleen Chun said with a heartfelt chuckle. "They're named after the four gospels - Matthew, Mark, Luke and John - and Jesus; I guess Jesus is the brains behind the whole system."
The idea for the lab was first conceived by Chun about a year ago, after younger church-goers continually asked if they could "borrow" the office computer to do their homework. Thanks to the assistance of the non-profit Metro Rotary's Hawaii Computers For Kids Program and donated equipment from Communications-Pacific, young worshipers now have a designated area to do their homework and develop the technical skills necessary for today's job market.
"Many of our young members don't have individual computers at home," Chun explained. "And so if they don't use the ones at their local library, these are their only access to a computer."
Though the computer-users range in age from 9 to adult, most are students from Waipahu High School and Leeward Community College. Chun added that Internet access is filtered, making popular networking sites MySpace and Facebook or questionable webpages inaccessible. But the PCs are equipped with games and other software that seem to be a hit.
"The space is small, but everyone works well together," said Chun. "So far we've had several children in here doing their homework. A young woman who has already graduated was in here the other day working on her resume."
Chun says there are no formal hours of operation - although Wednesdays, Fridays and Sundays seem to be quite busy - and usually children call her or the secretary to request access.
For more information, call 455-9855.
Most Recent Comment(s):