A Soldier's Songs Of Inspiration
Wednesday - January 31, 2007
By
.(JavaScript must be enabled to view this email address)
E-mail this story | Print this page | Comments (0) | Archive | RSS
|
Share

Del.icio.us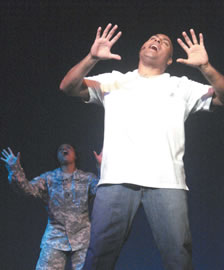 Sgt. Sam Hesch belts out a song in the 2006
U.S. Army Soldier Show. Photo from Linda
Hesch.
Waipahu resident Sam Hesch spent nine months last year inspiring and uplifting troops in Germany,Italy and across the United States as a singer in the 2006 U.S.Army Soldier Show, which entertains with music, song and dance.
"This was one of the most rewarding experiences of my life," said Hesch. "At the end of the show we had a receiving line,and troops and their families would come with tears in their eyes and thank us."
The Pearl City High School grad is a staff sergeant with the Hawaii National Guard,and he enjoyed the honor of serving his country and supporting the troops.What he missed most were his family, Hawaii's weather, people, poke and rice. His wife, Jean, and children Jadelyn, 17, Leonard, 12, and Angela, 9, were supportive.
"They are proud of what I was doing," Hesch said."They know I did what I did to support the war effort."
Hesch, who played the lead role of Chris in the Army Community Theatre's production of Miss Saigon in 2005, was voted the most musical student while in sixth grade - he played songs on the ukulele, recorder and flutophone by ear. His musical talents flourished during his school years.In seventh grade,while in the Highlands Intermediate School band, he played trombone; in high school he played tuba, and he started singing in college.
His family is also musical.Mom Cathy plays classical guitar, brother Thomas directs the Honolulu Community Band,and sister Linda has performed with both brothers in the National Guard band.
Until his next musical performance, Hesch can be seen playing tuba with the Royal Hawaiian Band, which he has done on and off since 1990.
Most Recent Comment(s):