A Waipahu Health Fair To Remember

Wednesday - February 11, 2009
By
.(JavaScript must be enabled to view this email address)
E-mail this story | Print this page | Comments (0) | Archive | RSS
|
Share

Del.icio.us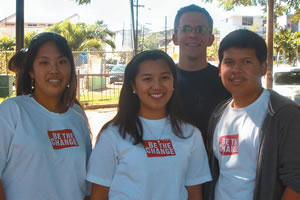 With the help of a grant from Starbucks and health careers teacher Andrew Michaels (back), Waipahu High students (from left) Jessica Nakayama, May Rose Lazarte and Aaron Oasay are ready to change their neighborhood's attitude about health. Photo from Andrew Michaels.
Waipahu High School students organized a free health fair for their community recently, and it all started with juniors Aaron Oasay and May Rose Lazarte and senior Jessica Nakayama obtaining a $500 grant from the Starbucks Foundation.
The three students, who also were responsible for initiating the idea of having a community health fair in the first place, attended a grant-writing workshop by Youth Service Hawaii last year to learn about writing a grant proposal for their idea.
"The kids learned so much about what it takes to put on the fair," said Andrew Michaels, health teacher at Waipahu High. "Besides attending the grant-writing workshop, it was these three that did a lot of the planning, gathering items and informing others about the fair."
On the day of the fair, an estimated 50 to 100 students students from Waipahu's health career classes and student clubs volunteered to man 20-plus booths, which provided information on a range of health topics. The event included free HIV screenings that allowed visitors to get their test results on site and within 20 minutes of taking the test. There also were free blood pressure checks and lots of free health information provided.
"A lot of it was just educating that there is low-cost access to healthcare," said Michaels. "Speaking to some of the groups, a few said they gave away 200 to 250 of their fliers, which is very good for us, given that it was the day after the wind storm."
Waipahu High culinary students also pitched in by making vegetarian chili to serve, also free of charge.
"From the $500 we received, $250 was used to buy the raw materials of healthy food for the vegetarian chili that was cooked by the culinary students; $150 was used to pay for the portable toilets; and the rest was used for things like permits for the park and basic supplies. We pretty much nailed it on the head with the the help of the restaurants who donated some food."
The restaurants donating food and time included Laverne's, Blazin' Steaks, Highway Inn and Manny's Bakery.
"We are extremely appreciative of their generosity," added Michaels."The manager of Blazin' Steaks actually required her staff to come in extra early on Saturday morning just to cook food for our fair. Her enthusiasm was inspiring."
As for another free health fair next year, Michaels said he's looking forward to the opportunity.
"We would love this to become an annual thing," he said."We laid so much of the groundwork, as far as building the contacts. Now it's more of a 'warm-call' instead of a cold-call."
Most Recent Comment(s):