Aiea Puts Out Welcome Mat For Tamura's

Wednesday - March 03, 2010
By
.(JavaScript must be enabled to view this email address)
E-mail this story | Print this page | Comments (0) | Archive | RSS
|
Share

Del.icio.us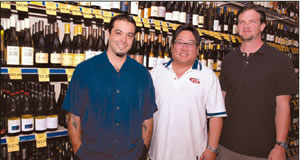 Glenn Tamura (center) is putting his newly opened Tamura's Fine Wines & Liquors store in Aiea in the capable hands of assistant store manager Ben Bechtel (left) and Chad Kroeger, store manager. Photo by Nathalie Walker,

.(JavaScript must be enabled to view this email address)
West Oahu residents can raise their glasses and toast to easier access to hard-to-come-by wines, brews and spirits with the recent arrival of Tamura's Fine Wine & Liquors in Aiea.
Located at 98-302 Kamehameha Hwy. between KFC and Boston's North End Pizzeria, the newest Tamura's Fine Wines supplies many of the favorites - the Spanish imports, cigars, and, oh, that poke! - folks would travel miles to stockpile from sister stores in Waialae and Aikahi.
"We didn't have a store in this area, so I thought, geographically, now we have like a trifecta," said owner Glenn Tamura. "A lot of my customers over here that used to go into town, now they say, 'Oh, good, now you're in my backyard. I can go more often.'"
Fresh on the heels of a successful soft opening last month, a grand opening sale is planned for this Friday, March 5, and will run till March 23. Store hours are 9:30 a.m. to 9 p.m. Monday through Saturday, 9:30 a.m. to 8 p.m. Sunday.
"It's been busy. Guys come into the store and tell me,'Ah man, I went to your store and spent almost my whole paycheck! I went in to buy a bottle of wine and walked out with 10 bottles.' That's usually how it is," Tamura said with a laugh.
"It's exciting, and the response we've had so far is really good," added Chad Kroeger, Aiea store manager. "That's what's been the great part about our first week - everybody's been really exciting and telling us how exciting and thankful they are that we're here."
Also beginning this week - and sure to be popular among area residents - are free in-house tastings, held from 4 to 7 p.m. Fridays and at 3 to 6 p.m. Saturdays, where the curious or intrepid can expand palates with help from the experienced staff.
"There's so much knowledge here at this store and so much experience within the staff that we're able to taste a lot of different things and make a lot of good selections that benefit the customers," added Ben Brechtel, assistant store manager. "When you come into the store, it is a bit overwhelming - you see hundreds and hundreds of bottles and don't know where to begin. We've had the advantage of trying 15 of these wines of the 30 we're looking at, so I can tell you this tastes like this, you might like this based on what you described, or this is a good option."
Brechtel, a resident of West Oahu, recently helped launch a Web site for Tamura's Fine Wines, http://www.tamurasfinewine.com, which highlights a different wine and beer of the month as well as other specialties found only at this local chain. Connoisseurs can also send an e-mail request to be put on the list for Tamura's wine and cigar clubs or to inquire about new arrivals, in-stock items, special orders or expert advice.
"With Tamura's we always have stuff that's exclusive to us that you can't find anywhere else on the island," Kroeger said." Right now we have a bunch of really good Spanish wines that are exclusive to us, nice price points, really good ratings, but there's more than that. We're getting stuff all the time. Anything that's available, we're able to get."
In addition to a wide array of reds, whites, roses, hard liquors, signatory lines (just arrived is a line of wines featuring Hello Kitty) and international beers, Tamura's Fine Wines also houses many of the pairings needed for any at-home wine party. Think cheeses, crackers, olives, chocolates, pasta, bruschetta, hummus, chips, dip, fresh seafood - yes, even their best-selling varieties of poke.
"It's like a candy store for anybody who loves to drink or who wants to get into the wines and the poke," Tamura said.
"We have the cheese, the wines, the poke, the beer ... you're bound to walk out with something.
"If we don't have it, no one will."
Most Recent Comment(s):