'Aina Adoption Project Is Off To Good Start
Wednesday - May 06, 2009
By Kerry Miller
E-mail this story | Print this page | Comments (0) | Archive | RSS
|
Share

Del.icio.us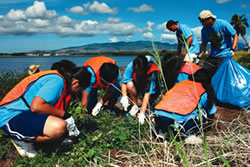 Junior Young Buddhist Association volunteers (left) clear overgrowth and debris along the shoreline of the adopted pocket wetland. Among others lending an eco-friendly hand April 18 were volunteer Pearl Harbor Navy sailors Photos by Eugene Hopkins.
Eighth-grade science students at Aiea Intermediate School are lending a helping hand - and in the process applying their classroom lessons - in their community.
Through a partnership with sailors from Pearl Harbor Naval Station and the City and County of Honolulu, between 20 and 30 students are participating in a "Pocket Wetland Project" this school year.
"It's part of the eighth-grade curriculum - stewardship of the land, studying the 'aina kumu wai (the watershed)" said AIS earth science teacher Matt Zitello. "It's a little science lab outside."
The three-year project began last October at a small wetland area along the bike path near Neal Blaisdell Park. Students removed invasive species of plants and replaced them with native vegetation, including native wetland plants to filter out water pollutants. They also re-mulched the area and tested the water quality.
Mikhael Davies, Benjamin Scholze, Stephen Biggie, Adrienne Allen and Johntay Christopher, who helped remove an old motorcycle tire and other refuse lining the bike path that runs through Pearl City and Waipahu. This was part of the annual Pearl Harbor Bike Path Earth Day Cleanup. Photos by Eugene Hopkins.
Every year for three years Zitello's class does this work at one site, and this was the first year at the wetland. Navy personnel as well as city workers, he said, did all of the hard labor, including tree removal.
"The area was overgrown; we wanted to clean that. We cleaned out all of the invasive species, planted morning glory flowers on the beach, measured pH and turbidity levels (in the water). We're going to study it for three years, each year (with) a different group of students," explained Zitello.
The students returned to the site this past February, and some opted to check up on their work through three optional volunteer Saturdays.
The most recent trip was held April 18 as part of the Naval Station's Pearl Harbor Bike Path Earth Day Cleanup, during which time the Navy partners with the city in beautification efforts along the Pearl Harbor bike path as part of the Adopt-A-Stream and Adopt-A-Block programs.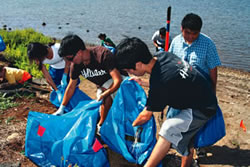 Lauren Fukuyama, Cameron Kubota, Ryne Masuda and Charles Yamasato help Aiea Intermediate School eighth-graders. Photos by Eugene Hopkins.
Zitello was pleased with his students' progress: "The water's cleaner now. Basically, we just went and did some maintenance on the area. This is their first year of three years using it as an outside lab to back up concepts we talk about in class."
Last month's trip was the last for this school year, and Zitello is excited to take new eighth-graders next fall to continue learning opportunities for students, especially those with an interest in science.
"Some of the kids who may be interested in science got to see what the City and County people do," he said. "They like getting out.
"Our kids are really good about volunteering. The things we learn in class, they get to see it more."
Most Recent Comment(s):