Air Museum Celebrates U.S. Aviation

Wednesday - December 13, 2006
By
.(JavaScript must be enabled to view this email address)
E-mail this story | Print this page | Comments (0) | Archive | RSS
|
Share

Del.icio.us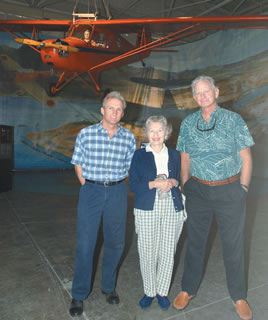 Martin Terii Vitousek (left) stands with his aunt Betty
Vitousek and cousin Roy Vitousek III at the Pacific
Aviation Museum Dec. 7, beneath the Aeronca plane
his father and grandfather were flying the morning
of the Japanese raid on Pearl Harbor. Photo by
Nathalie Walker, .(JavaScript must be enabled to view this email address)
Ford Island's newest attraction, the Pacific Aviation Museum, has opened its doors to the public. The restored hangar housing the facility is one of three that survived the Pearl Harbor attack. After nine months of labor by the Kiewit Building Group and at a price tag of $14 million, the museum stands as a tribute to some of the "players from the first act of WW II." President of the PAM board of directors, Clint Churchill explained that the other hangars will eventually embody events leading up to the dropping of the atomic bomb and the Korean War, Cold War and Vietnam.A surviving control tower will also be renovated. The entire project is expected to be completed within five years.
A Dec. 6 opening ceremony featured a host of distinguished guests including Jim Nabors (who led the singing of the national anthem), emcee Michael W. Perry, World War II veterans,medal of honor winners,generals and admirals. Guests of honor included Adm. Gary Roughead (Commander, U.S. Pacific Fleet), Gen. Chuck Yeager (the first man to break the sound barrier),Wally Schirra (the only astronaut to fly in the Mercury, Gemini and Apollo missions),Adm. Ronald J. Hays (the heavily awarded former commander of the U.S.Pacific Fleet),Allan Palmer (executive director and CEO of PAM) and Churchill.
"It is very appropriate to build this museum on the site of the only aviation battle to occur on United States soil,"said Gov. Linda Lingle, addressing the crowd."Very few know that there were more than 300 (U.S.) planes destroyed or damaged on that day."
The crowning glory of the museum is the collection of planes that flew during the WW II era. Next to a Japanese Zero fighter plane hangs the very Aeronca 65TC that made history as the first American plane engaged in combat during WWII when the father and son team manning it were attacked by the Zero fighters. Actual wreckage of a Zero plane that crash-landed on Niihau compels viewers to learn more about the surviving pilot and the island residents who captured him. The actual Stearman Biplane that President George H.W. Bush flew in basic training is suspended from the ceiling, and there is a Wildcat that is in flying condition after being submerged in Lake Michigan for 50 years.
Rounding out the attraction are flight simulators, a 200-seat theater, a hallway decorated with vintage Waikiki murals, a gift shop with aviation souvenirs and a similarly themed restaurant.
For reservations or more information, call the museum at 441-1000.
Most Recent Comment(s):