Local Movie Makes The Cut On Mainland
Wednesday - December 10, 2008
By Kerry Miller
E-mail this story | Print this page | Comments (0) | Archive | RSS
|
Share

Del.icio.us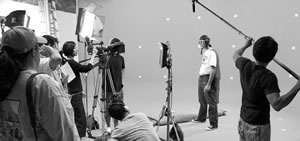 The cast and crew of 'All For Melissa' on set filming one of the indie romantic comedy's sillier scenes. Photo from Gerard Elmore.
Makakilo resident Gerard Elmore had no idea when he made All For Melissa, a romantic comedy loosely based on his life, that Echo Bridge Home Entertainment would want to distribute it nationally.
"We made it for $30,000 of my own money. It's one of the only local films that got picked up for national distribution. It's very good for a little, tiny film made here on Hawaii," said Elmore, who's also one of the film's writers, actors and producers as well as its director.
"It's a very big deal," he added. "It doesn't happen here in Hawaii - the indie scene, the chances of getting picked up anywhere are very slim. We made it, so it's a big deal, and we're very proud of the movie."
All For Melissa is about Jared Rogers, played by Milan Tresnak, a guy who is obsessed with a movie star named Melissa Williams, played by Kimberly Estrada. Rogers is a filmmaker who makes the trek to Hollywood from Hawaii to convince Williams to star in a music video and, of course, win her heart. Things don't go as planned, and Rogers finds himself torn between his fantasy fixation and the chance at a realistic romance.
"It's sort of a throwback to the old 1980s movies - John Hughes movies like Say Anything - but done locally. It has Andy Bumatai in it, also a bunch of local actors that are friends of mine," explained Elmore.
"The lead actor, Milan Tresnak, he was actually a friend of mine in acting class," he added. "He went off to L.A. and did a lot of good stuff. I filled out the (other) roles with stand-up comics. (I do stand-up comedy; I met a lot of guys through that.)"
The film also stars West-side actors Vince Keala Lucero of Kapolei and Tyrone Howard of Ewa Beach.
Others behind the scenes are Makakilo's Scott Lee Mason and Mericia Palmer in the producing roles, Aiea's Andrew Kerekes as a storyboard artist, and former Makakilo resident Bruce Elmore served as the set's massage therapist.
Elmore says his inspiration for the film was to pay homage to the '80s movies he so loves, but also to give the rest of the world a real look at Hawaii and what life is like here.
"I wanted to make a simple story to show people that Hawaii is not what people think," said the Campbell High School graduate, noting that the movie was filmed almost entirely in West Oahu, with the exception of one scene in Los Angeles.
"It's normal people living their lives; we just happen to be in Hawaii. I wanted to make a movie that'll make people smile. Hopefully it does that."
The DVD is available at Borders, Barnes & Noble, Best Buy, Circuit City and www.amazon.com in Hawaii, the Mainland and Canada.
For the holiday season, the makersof All For Melissa are presenting a "Win a Date Night" contest. Contestants write in to say why they should win a special date night. The prize is a signed DVD, a $50 Visa gift card and spa treatment from Love Luna Spa. The contest closes Dec. 15 and the winner will be announced Dec. 21. Visit www.AllForMelissa.com.
Most Recent Comment(s):