Area Youths March In The Rose Parade

Wednesday - January 10, 2007
By
.(JavaScript must be enabled to view this email address)
E-mail this story | Print this page | Comments (0) | Archive | RSS
|
Share

Del.icio.us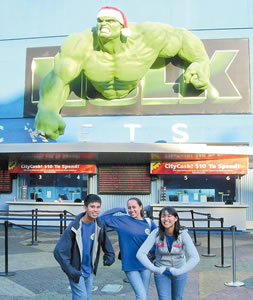 Punahou marching band students Reshley Dalisay,
Rachel King and Elise Nakamura at Universal
Studios Dec. 26, the first day of their trip to the
Rose Bowl Parade. Photo courtesy of the Dalisay
family.
Viewers tuning in to ABC or NBC early Jan. 1 were greeted with a vision of aloha. As the Tournament of Roses Parade marched across the screen, it wasn't just the mild winter climate or the stunning floral floats that rival those of our own Aloha Day Parade that sent crowds of enthusiastic onlookers into bursts of smiles and a rush of hands raised in shakas - it was the 242-member strong Punahou Marching Band.
"We were representing our school and our state, and it was really heartwarming to be part of something this big,"said sophomore and alto saxophone player Reshley Dalisay of Kunia, one of the many youths from West Oahu who marched in the parade."The audience made me really happy - they were all cheering and clapping, and my parents were there too."
After receiving an invitation to march in the Pasadena festival, the band spent a year in preparation under the direction of Keith Higaki and Gary Graser.
"The parade was five-and-a-half miles long,"said Dalisay,who has been in band since fifth grade. "We had to make sure our endurance was good and our playing was crisp. The practices before our trip and one during our trip really helped because we had a big turn (to master).The cameras were going to be on us right after the turn, so we had to look our sharpest."
The band also played at Disneyland. "We performed in the recording studio at Disneyland before (our marching band performance there)," said sophomore Toby Ishizuka (clarinet), of Aiea."We were directed by a professional conductor and recorded music from the The Emperor's New Groove and Atlantis. The conductor (treated us like) a professional band."
But it wasn't all work for the Hawaii gang - the group's packed eight-day California adventure included three visits to the Magic Kingdom as well as trips to Knott's Berry Farm, Magic Mountain, Universal Studios and a New Year's Eve dinner at Medieval Times.
"My special memory was staying up for New Year's and drinking apple cider with the boys in the room below us and watching fireworks," said junior Rachel Tochiki (color guard) of Aiea."And we watched all the chaperones bringing in the New Year in the parking lot."
About 70 chaperones and "tagalongs" accompanied the band.
"This was an exciting way to end my marching career," said senior Elise Nakamura (alto saxophone) of Aiea. "I'm so glad I got to play at Disneyland and the Rose Parade. Those things just seem so huge. I'm proud I was a part of it."
Other West Oahu youth who participated include Aiea residents, sophomore Julie Yamashita (color guard), juniors Brian Piotrowski (euphonium) and Rachel King (alto saxophone), and seniors Rachel Yamashita (flute) and Kara Takasaki. From Waipahu are senior Steven Marzo (trumpet) and sophomore LiliAnn Schramm (color guard); from other Westside areas,seniors Devon Grandy (trumpet) and Eric Imada (saxophone).
Most Recent Comment(s):