Bankers Dig Into Campus Repair Work

Wednesday - May 17, 2006
By
.(JavaScript must be enabled to view this email address)
E-mail this story | Print this page | Comments (0) | Archive | RSS
|
Share

Del.icio.us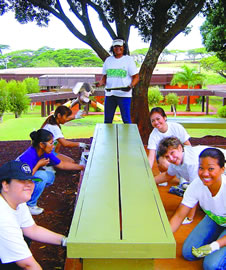 American Savings Bank staff and friends
apply their favorite color (green) to Pearl
City High School benches during a
recent Hawaii 3Rs project. They are
(clockwise from left) Jolene Miyaji, Mari
Lou Anacan, Cathy Criste, Sinta Bannister,
Charmaine Shodai, Lynn Watanabe and
Marissa Cabebe. Photo from Melissa
Malahoff-Kamei.
key student hangout on the Pearl City High School campus got a total makeover on May 6 with the help of a bank, a nonprofit agency and a can-do attitude.
Volunteers from the Hawaii 3Rs agency, along with the school custodian and American Savings Bank staff, met that morning for a carefully planned and budgeted project to revitalize the open area below the administration building. Once described as "a dirty, dusty hillside area," it now has a concrete walkway, flower planters, new landscaping and freshly painted benches.
"The state has limited resources, so our schools sometimes struggle to get these projects done," admitted principal Gerald Suyama. "When the private sector gets involved, we can work together to create a better learning environment for our kids.
"I'd like to expand it,"Suyama added,"but I don't want to be too greedy."
The project began with a $5,000 donation to Hawaii 3Rs from American Savings Bank in honor of its new branch at the Pearl City Wal-Mart. The non-profit 3Rs added federal money from its pool of funding and worked with all parties to create the "sweat equity" project that cut the total cost of the makeover from $30,000 down to $17,700.
"We are proud to have American Savings Bank as a community partner," said Hawaii 3Rs executive director Ryan Shigetani."With donations and a few helping hands from local businesses, we can work together to enhance the quality of life and instill a sense of pride in our children."
A brass plaque acknowledging the bank will complete the courtyard's new look. But bank spokeswoman Anna Marie Spring said it's simply "their mission" to give back to the community and "ensure a healthy start for the next generation" ... as well as a few plants.
The refurbished area is precious reclaimed space for the burgeoning student population, which uses it daily."Now it's a nice place for the kids," said vice principal Mark Tanji."They need this space to hang out."
Hawaii 3Rs (Repair, Remodel and Restore) was established in 2001 by U.S. Sen. Dan Inouye to attack the statewide backlog of school maintenance projects. To win a 3Rs grant, a public school must involve the community in a detailed repair plan with volunteers, discounts services and in-kind contributions.
Most Recent Comment(s):