Bringing Up A New Batch Of Educators
Wednesday - May 21, 2008
By Kerry Miller
E-mail this story | Print this page | Comments (0) | Archive | RSS
|
Share

Del.icio.us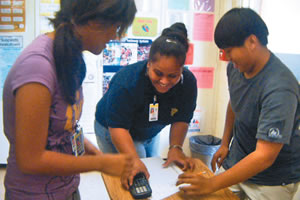 Waipahu students Adrienne Ramos, Leiloa Tiumalu and Ritchel Ortal review math concepts that they will later transform into a game as part of a lesson plan. Photo from Karen Shinjo.
To erase the teacher shortage in Hawaii, the Hawaii Education Association is giving local high school students a taste of teaching before they graduate.
Through the HEA program, the Hawaii Alliance for Future Teachers, a group of several local high schools including Waipahu, Aiea, Campbell, Kapolei and Waianae offer beginning college-level teaching courses to interested students with the hope that they'll study teaching in college and eventually teach in Hawaii.
"There is a shortage of teachers. They spend thousands and thousands of dollars - they recruit people from the Mainland, and these people don't stay," said Carol Yoneshige, executive director of the HEA.
The courses and their focus differ from school to school. At Waipahu High, upper-classmen can take "Explorations in Education" and "Teacher Education" with English teacher Karen Shinjo, the school's certified HAFT instructor. Shinjo's students do plenty of writing because of her background in English, and she adds that her curriculum may differ from that of Farrington High, for example, because they've had the
program longer. Shinjo said she enjoys passing on her passion for teaching to her students, hoping that one day they'll be in her shoes.
"The idea is we grow our own teachers, then they'll come back," said Shinjo, also a literacy coach and co-department chair at Waipahu."It is a big responsibility. They write an essay, interview in front of a panel, get recommendations from five teachers. I want somebody who is committed; I want them to be really serious about it.
"I love what I do," she adds. "I took it on because I really wanted to do it. We're trying to recruit more teachers and more principals to get on board. It really is the idea that people don't look at teaching as a good program anymore.Without the passion for this, you really shouldn't be a teacher."
Class work includes writing lesson plans, teaching strategies, addressing discipline problems and doing other work that mimics a beginner-level college course. Students also learn about tutoring and serve as student-teachers twice a week for a quarter.
Another part of the class involves venturing outside the school, as Shinjo's students did March 28 when they visited the state Capitol. There, students Kim Singson, Eric Hudson, Casimira Ferreira, Adrienne Ramos, Dana Fujiwara, Eljean Madio and Dongie Agnir met senators Mike Gabbard and Will Espero.
"My kids, they so love the program, they wanted to walk around and talk with legislators. They brought their binders and showed what they're doing," said a proud Shinjo. Also proud is Yoneshige, who says she really believes in HAFT's future.
"We're starting up our sixth year. (We're) just a group of volunteers that started out with Linda Shimamoto, our president," explained Yoneshige, adding that the program first began in South Carolina.
"South Carolina, for the past 20-23 years, takes high school students and has them perform jobs like a teacher does - planning, presentations, taking care of a class," she said.
"Linda Shimamoto heard about it, got more information and it was a program they thought made sense. It gives them an opportunity that worked out well with the DOE Career Pathway."
New curriculum is being written for HAFT, thanks to a $150,000 legislative grant received in January 2007. The goal, Yoneshige said, is for Hawaii to eventually have its own curriculum. A new teacher training session begins June 12 and 13, with about 15-16 teachers currently signed up.
"You see kids change from plain old high school kids," Shinjo said. "They sure are compassionate (after taking the classes). They look at teachers differently; they're peers.
"Some decide they're not going to become teachers, and we're OK with that, too. The idea is to make up your mind now."
Most Recent Comment(s):