Cancer Survivor Diaz A 'Champion'

Wednesday - June 16, 2010
By
.(JavaScript must be enabled to view this email address)
E-mail this story | Print this page | Comments (0) | Archive | RSS
|
Share

Del.icio.us
Three-time cancer survivor Arrianna Diaz high-fives Walmart associates at a ceremony May 18 at the Pearl City store announcing the 15-year-old as this year's Children's Miracle Network Champion Child. Photo by Byron Lee.
Arrianna Diaz knows what it takes to beat the odds. The 15-year-old has beaten rhabdomyosarcoma three times since she was first diagnosed with this rare form of cancer at age 7.
Now a thriving junior-to-be at Pearl City High School, Diaz has been named the 2010 Children's Miracle Network Champion Child for Hawaii.
"I'm still a little surprised even though it's been a few months since they sent out the representative," said Diaz, a Waipahu resident, of the national honor.
Champions are children with remarkable medical stories treated at Children's Miracle Network hospitals, and Diaz's story truly is just that.
Diagnosed with rhabdomyosarcoma, a form of muscle cancer most often found in children, Diaz initially was given a 5 percent chance of survival.
"The tumor grew into her spinal canal and pressed on her spinal cord and caused her to have a very rapidly ascending paralysis," explained Dr. Bob Wilkinson, Diaz's physician at Kapiolani Medical Center for Women and Children. "From a Friday over the weekend she went from walking around to being paralyzed from the waist down."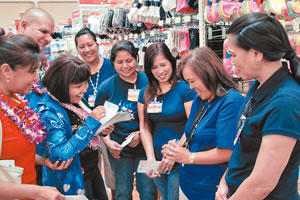 Arrianna Diaz (above, third from left) and parents Carlos and Julie (far left) share 'beads of courage' with Pearl City Walmart associates last month as part of the Champion Child's duties of spreading awareness of the good work of Kapiolani Children's Miracle Network.
Over the next year Diaz would undergo multiple surgeries, 39 weeks of chemotherapy and five weeks of radiation treatments.
Four years later the cancer reappeared, this time as six tumors found in multiple areas from her head to her legs. The 11-year-old underwent another surgery and 39 additional weeks of treatment.
In 2007, two more tumors were found in Diaz's upper right leg, which meant 42 weeks of treatment and surgery to remove 95 percent of the tumors.
Diaz has now been off chemo for more than a year, and though she does suffer from some lingering side-effects, she has indeed championed through her battle with cancer.
In fact, the bubbly Waipahu resident recently returned from a trip to Washington, D.C., to share her tale of triumph with Congress and President Obama. She also brought along her "beads of courage" to give to the 54 other Champions from around the nation.
"Because she has so many, we're sharing," said mom Julie of the red (symbolizing transfusions), yellow (for sleepovers at the hospital) and white (for chemotherapy treatments). Her daughter accumulated them all throughout her eight years of treatment.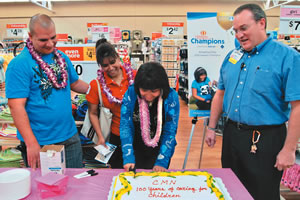 The Diaz ohana (at left) and Pearl City Walmart manager Boyd Schneider celebrate CMN's 100th anniversary with a cake. Photos by Byron Lee.
"Arrianna had a blood drive at her school," she added, "and these were teenagers, and they were so nice to give blood, but they didn't know why they were giving blood. They told us to talk to them, so Arrianna was telling them that every time she needed to have a blood transfusion, she would get a bead, and she would share it with the kids. And I was telling them it took almost two hours for a bag of blood to get into her, and it only took them 15, 20 minutes to give blood. And they're helping other people."
Diaz plans to keep sharing her beads and aloha spirit this November at the Children's Miracle Network Celebration at Walt Disney World.
"She's had a very long course of treatment - she was a youngster when we started to her adolescence now - and when we're not giving her chemotherapy, she's a trooper," Wilkinson said."She just jumps right up and back into the game. Her resilience is incredible."
Presented annually by Walmart and Sam's Club, Children's Miracle Network Champions is a program designed to increase awareness of CMN hospitals; drive participation in fundraising campaigns; and celebrate the specialized health care and research that benefits the 17 million children treated at CMN hospitals each year.
Since 1986, Kapiolani Children's Miracle Network has raised more than $8 million, all of which stays in Hawaii to support the medical needs of children like Diaz.
To learn more about the program, visit www.kapiolanigift.org/kcmn.aspx.
Most Recent Comment(s):