Carving Pumpkins With Personality

Wednesday - October 27, 2010
By
.(JavaScript must be enabled to view this email address)
E-mail this story | Print this page | Comments (0) | Archive | RSS
|
Share

Del.icio.us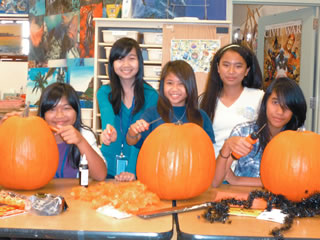 Kapolei Middle School students (from left) Selena Vanapruks, Alicia Lau, Stephanie Aczon, Ashley Gascon and Sarah Santiago each are hoping their Halloween pumpkin creations will win the public's vote — and $300 first-place prize for their class — in the Pumpkins with Personality contest. Stop by PriceBusters in Kapolei Commons Thursday through Sunday to cast your vote for your favorite jack-olantern. Photo by Daryle Mishina.
Kapolei Middle School students will be carving pumpkins for a Pumpkins with Personality contest, and the public will choose the winning gourd.
The contest is happening thanks to Kapolei Commons, which delivered pumpkins and carving supplies to six classes on Oct. 18.
"We chose Kapolei Middle School because we wanted to support a local school art program," said Kapolei Commons representative Sherri Rigg, "and we thought the intermediate students would be a good age group for carving pumpkins."
The students have until today (Oct. 27) to carve the big orange vegetables into creeps and creatures before putting their creations on display for judging Thursday through Sunday at PriceBusters Kapolei (4450 Kapolei Pkwy.).
Kapolei Commons also is giving out prizes to the classes with the top votes: $50 for third place, $150 for second and $300 for first.
"The prize money was additional incentive to encourage competition among the art classes," explained Rigg.
To view the list of winners, visit thekapoleicommons.com after noon on Nov. 1.
Most Recent Comment(s):