Community Digs Deep For Ewa Cemetery

Wednesday - August 05, 2009
By
.(JavaScript must be enabled to view this email address)
E-mail this story | Print this page | Comments (0) | Archive | RSS
|
Share

Del.icio.us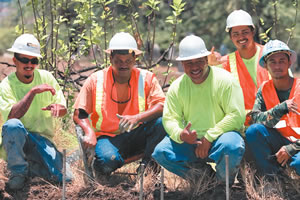 Alan Hashimoto, Richard Spragling, Manuele Faumuina, Robert Faumuina and Curtis Leffler of Honolulu Dredging Construction Co. are happy to lend a helpful hand on Ft. Weaver Road.
Ever since the Ewa Sugar Plantation Co. ended operations in the 1970s, a small group of volunteers has judiciously tended and maintained a tiny cemetery that lies in historic Ewa Villages. When construction along Ft. Weaver Road reached the property a few months ago, the new roadway configuration prevented volunteers from accessing the lot.
Although the cemetery is city-owned, funds to construct a driveway or to make improvements were initially declined. Additionally, the state has no jurisdiction in the matter other than a review process by the Historical Preservation Division when alterations are made to the grounds.
That's when Ewa resident Glenn Oamilda contacted state Rep. Kymberly Pine for a solution. Enter Pine's staffer Tom Berg, also an Ewa resident and a member of the Ewa Neighborhood Board. He decided it was best to go straight to the source and proceeded with an offer to Hawaiian Dredging Construction Co., which is performing the Ft. Weaver Road Widening Project.
"When we first met on site where the proposed driveway should be, Hawaiian Dredging workers were up to their ears in their own work and I thought the request would be brushed aside," Berg recalled. "Instead, these guys immediately said what do we need to do and how can we be of help."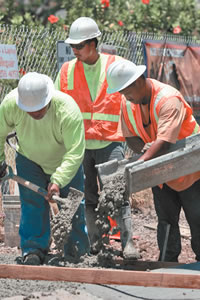 Manuele and Robert Faumuina team up with Richard Spragling on July 21 to pour cement for Ewa Cemetery's new driveway. Photos by Byron Lee,

.(JavaScript must be enabled to view this email address)

.
Workers got right on board donating their time, materials and resources toward the construction of a new driveway leading into and out of the 4-acre cemetery. Their alliance helped advance a permit request to the city, and after a cement pouring July 22, the driveway project is in the books, so to say.
"These construction workers have great respect for our cemetery, and the amount of sweat they are putting into this driveway reflects that," Berg stated.
"Here is a company tasked with widening Ft. Weaver Road and on a mission to stay within budget and keep their company work force employed. However, in these economic times, they stepped up to the plate and are giving back to the community.
"This cemetery holds many historical features and is of great importance to our community, to both old and new residents alike.
"We are forever grateful to Hawaiian Dredging for sustaining the preservation efforts that can continue now that proper access has been finally achieved."
Most Recent Comment(s):