'Crash' Used As Cautionary Tale For Teens

Wednesday - April 15, 2009
By
.(JavaScript must be enabled to view this email address)
E-mail this story | Print this page | Comments (0) | Archive | RSS
|
Share

Del.icio.us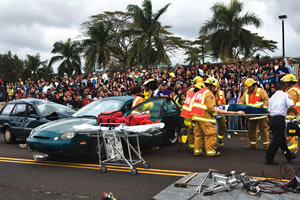 EMT and fire fighter crews wheel out a victim from a mock car crash during a school assembly April 9 to show Pearl City High teens the dangers of drunken driving. Photo by Leah Ball,

.(JavaScript must be enabled to view this email address)

.
The dangers of driving drunk and the realities of losing a loved one, or even yourself, in a car accident were brought to the attention of more than 300 Pearl City High School students last week as they witnessed a mock car crash.
The cleverly planned program began in the auditorium with a video presentation that depicted the events leading up to a fatal car crash. Following the video, the group walked about a block to the scene of the crash, where students, an EMT crew, the fire department and HPD officers participated in acting out the accident.
"The statistics are that every day in America, 14 teens die in car accidents," said English teacher Gay Ching. "We really want to spread the awareness and educate our teens. So for this mock car crash, we involved many students in our school."
For starters, two of her English classes used their creative writing skills to compose the script. And their computer and media skills were put to the test in creating the video presentation.
Following the intensely portrayed accident, everyone gathered for a mock funeral that included everything from a slide show of the victim, a casket, wreaths and music by band students.
"This was a really big project for us, and there was so much work involved" added Ching. "And besides the hard work of the students, we could not have done it without the funds and donations that we were given."
To help fund this project, All State Insurance donated $7,000, the school's PTSA chipped in $1,000 and Tesoro gave $500. The two crash cars were donated by Affordable Towing, and EMT, fire department and HPD members gave of their time to be at the assembly.
In addition, booklets about driving safety were distributed to students.
Upon completion, students were given raffle tickets for a drawing that awarded prizes such as Tesoro gift cards, iPod Shuffles and the grand prize, an iPod Nano.
"We really hope this is effective in getting the message out," stated Ching.
Most Recent Comment(s):