Danny Couch Shares His Aloha In Song

Wednesday - April 25, 2007
By
.(JavaScript must be enabled to view this email address)
E-mail this story | Print this page | Comments (1) | Archive | RSS
|
Share

Del.icio.us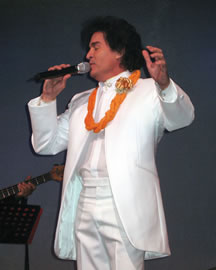 Danny Couch sings his heart out on the
opening night of his new show at the
Sheraton Princess Kaiulani. Photo by
Rasa Fournier.
Family, friends and VIP guests that included Danny Kaleikini and John Berger filled the Ainahau showroom April 2 at Sheraton Princess Kaiulani for the premiere of Danny Couch's new show: The Voice of 'These Islands.'
The Makakilo resident and his select team of dancers (all beauty pageant winners) and musicians kept the audience cheering, clapping and laughing through the evening.
"I look forward to the challenge of this show" said Couch."I've been very lucky as far as people loving my music, and I just want to keep doing what I do as long as I can."
As the hula dancers changed outfits for one lively number after another, Couch crooned away, and got everyone singing along. At one point he serenaded guests Albert and Janice Choy with the Hawaiian Wedding Song in honor of their 46-year marriage. A wild roar went up when the Choys took the mike and showed off their own lovely voices with an impromptu duet.
One of the show's more tender moments found Couch reminiscing about his mother.
"I know everyone thinks I wrote this song for the tourists, but I didn't," said Couch of his signature hit, This is Hawaii. A hush filled the room as he recounted writing the song while driving to the hospital to see his dying mother. In his concern about getting to her on time, he was filled with gratitude for the important things in his life.
"I recorded it that night and went to play it for her the next day," said Couch."A few weeks later she passed."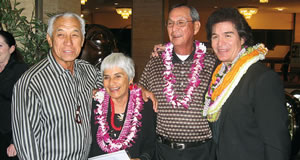 Janice and Albert Choy (center) who were congratulated
during Danny Couch's performance for being married
longer than anyone in the room, meet after the show with
special guest Danny Kaleikini (left) and Couch. Photo by
Rasa Fournier.
Couch was raised in Nanakuli by his father who was from Georgia, and his mother,"a beautiful Hawaiian woman" who came from a family of 18 siblings. He has four children of his own from a past marriage. Though he is currently single, he is open to finding true love.
"If I ever crossed the marriage path again it would be nice," he said. For now, he makes do with the company of his two cats.
A favorite escape from the day's bustle is running. One of his routes used to be the long-distance trek along the freeway from Waipahu to Nanakuli.
"When I run, I pray for world peace," said Couch with sincerity. "I know it sounds funny, but that's what I do - I pray for the world."
Another recreational passion is fishing, which brings him to the shores of Campbell Industrial Park.
"Some people don't know that we (the Westside folks) have the most incredible beaches on the planet." Couch said with the heartfelt appreciation that is reflected in his songs."When you look at the ocean (in other areas), you see a tinge of aqua green, but what we see is deep blue, pure, beautiful, clean water. These beaches are the best."
Lately, Couch has been spending time closer to his apartment in Waikiki, fine-tuning his show. His romance with Waikiki was forged almost 30 years ago. In his early days as a musician, in 1979, he began drumming with the late Don Ho and the Ali'i's.
"The first time Don heard me sing he looked back and said, 'Who is that?' - we hadn't even met," recalled Couch."He told me to get out from the drums and start singing. If it wasn't for Don, I would not be doing what I do today."
Couch hopes to find some of the momentum he gained with his Hale Koa show, which filled to capacity so successfully that twice they had to build him a new showroom. Within eight years, he was accommodating up to 900 people a night. This time he has reason to be especially dedicated. "I've always worked for hotels and been paid by hotels," he confided. "This is my first show that I own."
And he hopes to continue entertaining for many years. "As long as I'm making people happy, as long as I'm able to touch a chord in someone's heart, I know I'm doing something right," he said. "I hope for a long career ... and to keep my hair," he laughed.
The Voice of 'These Islands runs Monday and Wednesday evenings. For reservations or more information, visit www.dannycouch.com or call 931-4660.
Most Recent Comment(s):
For all comments click here.