'E Ola Pono' Winners Announced
Wednesday - March 26, 2008
E-mail this story | Print this page | Comments (0) | Archive | RSS
|
Share

Del.icio.us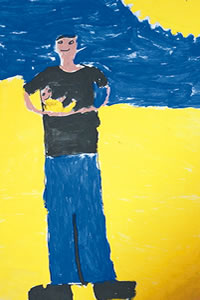 Heartstone Sound's entry: a painting of himself caring for his baby sister. Photo from John McLaughlin.
A few months back, Heartstone Sound was a troubled boy. As a fifth-grader at Aiea Elementary School, Sound was often tardy to class, couldn't speak English well and was scoring in the 25 percentiles on his monthly progress exams.
Now, he is always on time, scoring in the 85 percentiles and making great strides to become more involved in school. The secret to his dramatic turnaround and accomplishments is art.
Sound was entered in the Hawaii Civil Rights Commission's "E Ola Pono Art and Video Competition," where the running theme follows the traditional Hawaiian value of pono, living with respect for everyone and in harmony with everything.
"Because he's achieving as a whole, he's changing as a whole," said Vanessa Wong, Sound's fifth-grade teacher. "These little achievements - winning contests like this - go a long way, and it can change someone's life and goals."
Wong said Sound was struggling because he was not a fluent English speaker, had little support at home and was "basically allowed to run wild." She also said he was frequently late to school because he would hang around his cousins, who were bad influences.
Sound's artwork made it to the competition when professional artist - and now Aiea Elementary art teacher - John McLaughlin submitted two pieces from the school.
"(The principal) asked me if I could have the kids produce a poster, and I said 'Sure,'" he said. "They really did some super things."
McLaughlin received funding from the Pearl Harbor Rotary Club to provide art education to a school with little funding for such classes.
"We adopted the Aiea school because they are far below the poverty line. I thought, this is a way to provide a little art training for the fifth-graders,"said McLaughlin, who teaches the class twice a week.
HCRC's competition accepted more than 40 paintings and three videos from all over the state at deadline time, and even a few more after that.
"The competition ran really, really well this year," said Shirley Garcia, HCRC contest coordinator. The program has been running infrequently since 2002 and just added the video component this year. Students Evelyn Obamos, Shirwin Acidera, Erin Gamil and sponsoring teacher Oscar Ramiscal from Campbell High School were one of two high school teams to submit work.
"I think that's something we'd like to put more effort into next year to kind of grow," Garcia added.
Pieces were judged on the clarity of the message and theme, incorporation of suggestions to promote pono in daily life, words accompanying the picture for clarification on its message, originality and creativity, and visual appeal. The judges were Garcia, resource teacher from the state Department of Education Brandon Teshima, and curriculum specialist from the University of Hawaii curriculum research development group and Hawaii cultural practitioner Lilette Subedi.
To promote the contest and the ideals of pono further, PBS Hawaii will feature all the winners in a broadcast at 8:30 p.m. March 27; check local listings for channel.
Linda Brock, vice president of programming and community relations at PBS Hawaii, described two schools, one on the Big Island and one in Waimanalo, featured in the "E Ola Pono" broadcast that have created programs based on the ideals of pono to steer troubled children away from bad situations and poor choices.
While Aiea Elementary doesn't have a pono program, principal Ed Oshiro encourages excellence in his own way. In Sound's case, the young artist was honored in front of the whole school and given prizes like paints, painting paper, a football and general school supplies.
"I'm really proud of our kids," Oshiro said."They really work hard and come from a really tough life."
For more information on HCRC and the competition, visit www.hawaii.gov/labor/hcrc
Most Recent Comment(s):