Enjoying A Summer Internship
Wednesday - July 25, 2007
By Lisa Asato
E-mail this story | Print this page | Comments (0) | Archive | RSS
|
Share

Del.icio.us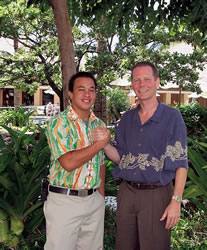 Kapolei High School graduate and Ko Olina intern Royce Cummings shakes hands with Chad Jensen, general manager of Marriott's Ko Olina Beach Club. Photo courtesy of the beach club.
Seventeen-year-old Kapolei High graduate Royce Cummings got his feet wet in the hotel industry this summer working as an intern at Marriott's Ko Olina Beach Club Resort.
The experience was so enjoyable, he said, he's now torn between future careers in video or hospitality. "I love both of them now," said Cummings, a self-described people person who interned in loss prevention, or security.
"We interacted with people every day, with all the guests - it's all face to face," said Cummings, who will start at Leeward Community College in the fall."We do floor checks, we make sure all the guests are safe even in the pool areas, all-around security work. We do everything. We're like the backbone of the company."
Cummings was one of about 40 high school and college students of Hawaiian ancestry to participate in the six-week paid internships at Ko Olina Beach Club, JW Marriott Ihilani Resort & Spa at Ko Olina and Waikiki Beach Marriott Resort & Spa.
The summer program, which ended July 20 and wrapped up July 22 with a graduation at the Waikiki property, is a joint venture between Queen Liliuokalani Children's Center and Marriott's Spirit to Serve Our Communities campaign. The experience provides hand-on experience in the hotel industry and a chance to groom future hotel employees.
Chad Jensen, general manager of Ko Olina Beach Club, a five-star time-share resort, said the property has been working with QLCC since 2004 and places the students in areas including bell desk, food and beverage, activities and front desk.
"In the first year we had three interns, and this year we had 19," he said. "It's just a wonderful opportunity to give back, and the key thing is 70 percent of our associates, or employees, are from the Leeward Coast, but also the vast majority, 80 percent, of our managers and supervisors have been promoted from within. We like the kids to see how members of their community are able to move up.
"We actually hired seven students from this program ."
Although the two didn't work directly together, Jennings said Cummings impressed him as a clean-cut young man with a "really upbeat, positive attitude" who "did a great job taking care of the guests."
Last summer Cummings did a video internship through QLCC, which led to a trip to Los Angeles for a video competition. This year, his mom, Yvette Manoi, a front-office manager at the beach club, encouraged him to try something new. Cummings is glad he did, saying he enjoyed shadowing Donald Adina, who made him feel at home, and watching an orientation video of how the company started. "It was a very interesting video," Cummings said, adding he has a new respect for J.W. Marriott Jr., the company chairman and CEO. "I heard he comes down to this hotel sometimes. My mom has a picture of herself and Mr. Marriott in her office, and I want one now. That's like taking a picture with the president."
Most Recent Comment(s):