Ewa Beach Steps Up To Fight Hunger

Wednesday - May 12, 2010
By
.(JavaScript must be enabled to view this email address)
E-mail this story | Print this page | Comments (0) | Archive | RSS
|
Share

Del.icio.us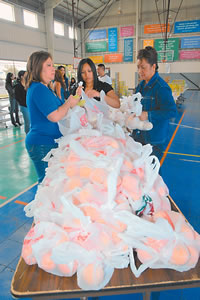 Gale Braceros, site coordinator for Ewa Weed and Seed; Cheryl Labuguen, EWAlution 96706 community coordinator; and Hale Pono Boys & Girls Club director Frances Rivero sort food to be donated at the last Ohana Food Distribution in Ewa Beach. Photo by Nathalie Walker,

.(JavaScript must be enabled to view this email address)

.
Thanks to an effort by the Hale Pono Boys & Girls Club, Hawaii Foodbank and various Ewa Beach community members and organizations, nearly 200 local senior citizens and families received free groceries March 19 through the Ohana Food Distribution.
"Toward the end of the month funds and food are scarce for many families in the Ewa Beach community," said Frances Rivero, director of Hale Pono Clubhouse. "For those less fortunate who wonder where the next meal will come from, the distribution will help."
The distribution day, Rivero explained, serves as catalyst to unite residents, community-based groups, private businesses and nonprofit service providers so that they can assess the needs of the community and formulate strategies to meet those needs.
"As a fast-growing community, Ewa Beach is facing many important changes," added Angela Dang, a volunteer with EWAlution (formerly the Ewa Beach Community Coalition), a partnership of more than 18 nonprofits and private companies, organizations and affiliates that works on issues affecting youths and families in Ewa Beach.
Dang lists increased housing costs and new residential developments as two dramatic changes shifting the demographic and socioeconomic conditions in the area. She also noted that a brand-new middle school set to open in the fall and redrawn school boundary lines also contribute to the transitions residents face.
"Ohana Food Distribution and its volunteers let the needy in our community know that they are very much an important part of these changes and that their voices count," Dang said. "We want to show them this by giving them one day where they don't have to worry about putting food on the table for their families."
According to Rivero, the food bank donates about 10 pallets of fresh and canned food items to the distribution, which sees an average of 220 adults and 150 children go through its lines. Other contributors include Aloun Farms, Costco and volunteers.
The distribution began in 2004 and takes place on the third Friday of every other month. Distribution dates are determined the year before and, once approved by the food bank, the schedule is then circulated among qualifying agencies, steering committee members of Ewa Weed and Seed and its partners - Coalition for a Drug-Free Hawaii, EWAlution, Gentry Homes, Haseko, New Hope Christian Fellowship, Our Lady of Perpetual Help, First-to-Work, local law enforcement, the military and students/staff from Ewa Beach and Waipahu schools.
"With these tough economic times, we agree that success can be achieved when various public and private groups work together to solve community problems by sharing ideas, resources and time," Rivero stated.
Proof positive of this could be seen at the last distribution day in March, when Ilima Intermediate School Team 7-5, headed by teachers James Chong and Weyland Bailey, donated $200 to Hale Pono.
"Ilima usually has two fundraisers a year, and they decided to donate some of what they raised to the Boys & Girls Club, as the organization has greatly helped the school and its students in the past few years," explained Dang, AmeriCorps VISTA for Campbell Complex HIDOE Volunteers and Partners Program.
The next distribution drive is from 3 to 5 p.m. May 21 at Hale Pono Clubhouse gym, and Dang said donations and volunteers are welcome. Responsibilities may include sorting, organizing and handing out food items; assisting people, especially the elderly, in collecting food items; helping manage lines for distribution; and cleaning up after the event is over. Rivero added that volunteers are most needed to unload the delivery truck, which arrives between 1 and 2 p.m.
A free Ohana Bingo Night concludes each distribution. It begins at 6 p.m. and is open to all.
"Ewa Beach is tight-knit, convoluted and diverse, with people from all backgrounds and walks of life," Dang said. "The well-being of the people in our neighborhoods remains centered in our commitment to our community, and I believe events like the Ohana Food Distribution reflects this."
To assist in the distribution, donate items or for more information, call Rivero at 689-4182 or Cheryl Labuguen at 689-0267.
Most Recent Comment(s):