Ewa Beach's Chung Serves In Africa
Wednesday - June 13, 2007
By Lisa Asato
E-mail this story | Print this page | Comments (0) | Archive | RSS
|
Share

Del.icio.us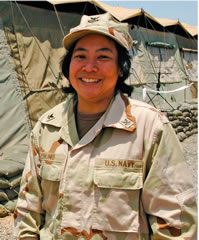 Ewa Beach's Carol Chung while on
deployment as a Navy Reservist at
Camp Lemonier in Djibouti, an area
on the Horn of Africa. Photo by
Daren Reehl.
Ewa Beach resident and Navy reservist Carol Chung put her job as a first-grade teacher on hold while she helps "promote peace with stability" halfway around the globe on the Horn of Africa.
"I'm really glad for the opportunity to be here, definitely there's no place like home. I can't wait to go back, but I do appreciate the experience - for me it's a once in a lifetime," said Chung, an intelligence specialist 2nd class, who is halfway through her six-month deployment to the Republic of Djibouti, a northeast African nation about the size of Massachusetts.
The '88 Waipahu grad is in the capital of Djibouti as part of the Combined Joint Task Force-Horn of Africa, comprised of more than 1,800 U.S. servicemembers, civilians, coalition forces and partner nations. The Horn of Africa nations are Djibouti, Ethiopia, Eritrea, Kenya, Seychelles, Somalia, Sudan and Yemen.
"The basic mission here is to promote peace with stability in the Horn of Africa region," said Chung, an Iroquois Point Elementary School teacher."We do that by doing different humanitarian projects: building schools, digging wells, and as people we have opportunities to interact with the community - going out to the orphanage, participating in the English discussion groups at the high school."
A teacher for 13 years, Chung finds that life in Africa requires some adjusting for a 36-year-old woman who's used to living on her own with conveniences like a car and high-speed Internet. But her sense of humor helps keeps things in perspective.
"We live in tents here, 16 people to a tent; we have to walk to the bathroom, we have community showers, a huge chow hall, it's hot," she said, laughing."It's triple digits right now, it's humid too. It made me realize just how much I take for granted at home ... I'll never complain again about paying $45 a month for Road Runner."
Chung calls home about once a week. Her parents, Richard and Renee Chung of Waipahu, send care packages of wipes, toilet paper, body lotion, Crystal Light drink mixes and anything else Chung might crave."The very first thing she said was can we send the mochi balls," said mother Renee.
"She's happy, she knows her job," Renee added. "She does think of it as a job to be done, and she can do it."
With seven-day work weeks, Chung said she's enjoying the unique experience of working with people from different countries and from different branches of the U.S. military. She also said she enjoys her interaction with "friendly, happy" locals who work on base as well as those she meets through her community work."It's good to be able to give and to see how much they appreciate it," she said.
After Chung returns home in September, she'll graduate from the University of Hawaii-Manoa with a master's degree in education, hopefully in December, but for now she's concentrating on her deployment. "In the next three months I just want to enjoy my time here,"she said."I want to take advantage of the MWR (Morale, Welfare and Recreation) trips around Djibouti and see as much as I can, and make the most of my time.
"I want to learn what I can from the people I work with, do the best job that I can while I'm here."
Most Recent Comment(s):