Ewa Grappler Fights For State Title

Wednesday - March 28, 2007
By
.(JavaScript must be enabled to view this email address)
E-mail this story | Print this page | Comments (0) | Archive | RSS
|
Share

Del.icio.us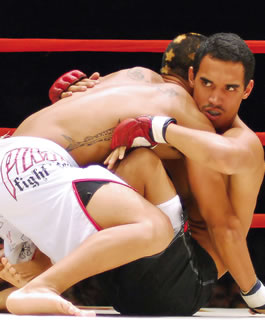 Marshall Harvest (right) grapples with Kyle
Miyahana. Harvest, of Ewa Beach's Animal
House gym, will be battling for the state
lightweight championship at Icon's mixed
martial arts event at Blaisdell Arena on March
31. Photo from Patrick Freitas.
Westside names are in the lineup at Icon Sport's "Epic" tournament coming to the Blaisdell Arena on March 31.
In the lightweight championship, Marshall Harvest of Ewa Beach's Animal House gym will face Justin Bucholz. Twenty-one-year-old Harvest is a student at Leeward Community College, a member of the Air National Guard, and by the standards of anyone who knows him,he's somewhat of a martial arts prodigy.
"When Marshall fights they're (the audience) thinking he came from one big school or big organization or (learned from) somebody who knows a lot about grappling," said Animal House coach Rick Lee. "When I first saw him fight, he was phenomenal.He was dominating and he had only been learning the skill a couple months."
It was two years ago that Lee spotted Harvest winning match after match in his first tournament.Amazingly, Harvest - who is described as bookish, shy and having a "demeanor that is nothing like a fighter"- had no professional training.
"Me and my friends used to play around (grappling) on the beach,"explained Harvest. "I started watching a lot of UFC (Ultimate Fighting Championships) and I started reading books about it (particularly jiu-jitsu) and going on the Internet."
He says it all in a soft-spoken, understated manner, adding nonchalantly,"I wanted to see if I was any good, so I entered a tournament."
("Learning jiu-jitsu through books and videos is like reading a cookbook and then opening Fleur de Lys Restaurant," says Icon promoter Patrick Freitas of Harvest's amazing talent.)
A month after his debut tournament, Harvest began training under Lee and shot up in one big leap. After only one amateur match, he was entered directly into Icon's MMA (mixed martial arts) competitions.
"I know my opponent is a ground ground guy, but I'm going to try to keep it standing" said Harvest of his upcoming match."I trained real hard, I feel I'm about ready for this fight."
Another Animal House fighter in the event is 18-year-old Devon Damo."His kicks are powerful, his hand is lightning fast and he's strong,"says Lee with enthusiasm. "He's one up-and-coming fighter to watch out for. That's one fight you definitely don't want to miss. He's gonna come out blazing."
Also from West Oahu, Ron Verdadero of Waipahu's Jesus is Lord gym will be entering the ring.
It's the Harvest-Bucholz match that's billed as one of the most anticipated lightweight matchups in years, and Animal House is itching for the win."If Marshall wins, it's the first belt in Ewa Beach at Icon,"said Lee."It's going to bring a lot of pride to our fight. This one would be really good for our community,"he says, emphasizing the importance of connecting with the community.
"We try to give a positive view of martial arts and our club by doing some good things around the community," said the trainer, whose gym members volunteer at various community events, including providing security for Campbell High School.
Animal House was formed five years ago and has 25 active fighters from ages 5 to 33.At the recent 2007 Naga grappling championship, seven boys from the gym entered and all of them placed, including five who took first place. The gym also boasts champion girl kickboxers.
The March 31 Icon event begins at 7:30 p.m. For tickets, visit www.ticketmaster.com
Most Recent Comment(s):