Ewa Makai Will Soon Be In Session
Wednesday - July 29, 2009
By Kerry Miller
E-mail this story | Print this page | Comments (0) | Archive | RSS
|
Share

Del.icio.us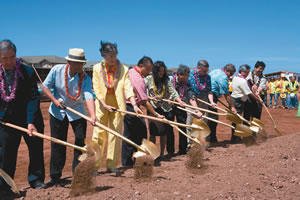 Among those breaking ground July 2 on the newest Leeward school, Ewa Makai Middle School, are (from left) state Sens. Norman Sakamoto and Will Espero, Gov. Linda Lingle, BOE chairman Garrett Toguchi and state Rep. Kymberly Pine. Photo by Leah Ball,

.(JavaScript must be enabled to view this email address)

.
Enrollment in Leeward district schools has increased from 31,500 in 1993 to more than 40,000 currently, according to the state Department of Education, and it projects that by 2013, student enrollment will increase by about 609 more.
With overcrowding already a problem at Kapolei Middle and Ilima Intermediate schools, a third middle school will be welcomed into the West Oahu family next year.
Ewa Makai Middle School is scheduled to open in July 2010. A groundbreaking ceremony was held July 2 at the future home of the school on Kapolei Parkway in the Ewa Gentry area. Gov. Linda Lingle, Board of Education chairman Garrett Toguchi, state Sen. Will Espero, state Reps. Kymberly Pine and Rida Cabanilla, and Campbell/Kapolei Complex area superintendent Vernon Young were among guests at the ceremony.
"The school is way overdue," said Young. "We can open up with grades seven and eight but still have to work on from which geographical area kids will attend the school."
The students who will attend Ewa Makai Middle School, he explained, have yet to be determined, but students somehow will be divided up among the three schools. Ewa Makai will be designed to hold 1,050 students, with the capacity for up to 1,400 students by using a year-round multitrack schedule like Kapolei Middle.
As mandated by state law Act 96, Ewa Makai is required to be certified with a silver rating by the Leadership in Energy and Environmental Design (LEED) green building rating system. Green building improves the efficiency with which buildings use energy, water and minerals while reducing the impact on human health and the environment through better design, construction and operation. Design features of Ewa Makai up for LEED certification include energy-efficient mechanical systems, natural lighting, recycled materials, water-efficient plumbing fixtures and more.
The school's special features also include an indoor dining facility, outdoor learning gardens, library media center and specialty classrooms for music, art, technology, family and consumer science, dance and performance, and health and fitness.
Price tag for the 175,900-square-foot school is $64.8 million. The 18.5 acres of land was provided by Gentry Homes, and the campus was designed by Mitsunaga and Associates. General contractor for the project is Nordic PCL Construction Inc.
Most Recent Comment(s):