Family Fun With Augie T.'s New DVD

Wednesday - December 06, 2006
By
.(JavaScript must be enabled to view this email address)
E-mail this story | Print this page | Comments (0) | Archive | RSS
|
Share

Del.icio.us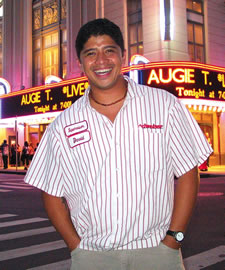 Ewa Beach's Augie T. lights up the Hawaii
Theatre. Photo courtesy of Mountain Apple
Company Hawaii.
Ewa Beach resident and local comedy great Augie Tulba, better known as Augie T., has released his latest DVD Then & Now. Fans of the award-winning comedian's 2004 hit, Augie T. Live @ Hawaii Theatre and those of you new to the scene, can rejoice at his latest offering.
"Comedy is like a mirror,"says Tulba in the new release."I say the things you like say, but you scared say."
Indeed, his show is edgy enough to capture an audience's attention (note his mentions of half-woman, the Ala Wai sewage spill and Brokeback Mountain), yet his routine is refreshingly family-oriented and without profanity.
Filmed in the intimate setting of Farrington High School auditorium, the audience becomes one big ohana laughing as "Uncle Augie"entertains with animated faces and voices as he discusses topics including Vegas, Hawaii's American Idol mania and the conspicuous lacking of a Hawaiian Barbie doll. He weighs in on Mayor Mufi Hannemann, Lilo and Stitch, marriage, and covers the cultural gamut, from local groups - Samoans, Filipinos, Hawaiians, "Portagees" - to tourists and Bostonians, all with lighthearted charm and a twinkle in his eyes.
He is not only a local comedy phenom. Tulba has managed to successfully cross over cultural lines by entertaining audiences throughout the mainland and in Japan.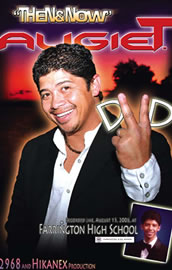 Augie T. presents Then & Now., in
stores where DVDs are sold.
Photo courtesy of Mountain
Apple Company Hawaii.
On the island, Tulba volunteers his time at local day care and elementary schools.
"Augie Tulba gave an outstanding talk about how growing up he had no money and a dyslexia problem,"said Daren Presbitero, an attendee at a recent talk that Tulba gave to sixth-graders at Heeia Elementary School about bullying and respect."But he always searched for the positive people and things in life that would benefit him in the long-term, and he used comedy as an outlet. He encouraged all of the keiki to follow that basic rule:To pursue positive goals and respect one another."
He has also set up the Speak the Dream Foundation which provides scholarships to high school graduates who need assistance to pursue higher education.
"I didn't have the opportunity to go to college," explained Tulba. "I want to help kids to achieve their goals. I want to encourage them to dream big."
To help fund his foundation, Tulba has been engaged in "Comedy in the Community," a 25-city tour of the state focused on bringing families together for an evening of laughter. For a great holiday gift for yourself or family and friends,visit stores that carry DVDs to find Tulba's latest offering, which contains special features,bonus videos and a behind-the-scenes segment that takes you "On the Road With Augie T."
Most Recent Comment(s):