Fans Aid All-Stars With Trip Expenses

Wednesday - September 15, 2010
By
.(JavaScript must be enabled to view this email address)
E-mail this story | Print this page | Comments (0) | Archive | RSS
|
Share

Del.icio.us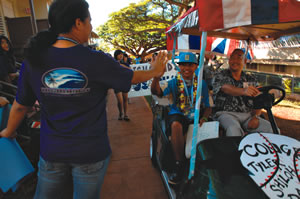 Highlands Intermediate vice principal Pat Abe drives student Shiloh Baniaga past a fan during a Sept. 8 parade at the school in honor of the Little League World Series Champions. Photo by Nathalie Walker,

.(JavaScript must be enabled to view this email address)

.
Taking a team of 11- and 12-year-olds to the Little League World Series is a rare event that leaves families with lasting memories ... and years of debt.
According to those who have been there and back, it is not uncommon for families to spend $8,000 to $10,000 chasing the elusive title.
"We're still collecting receipts," laughed Waipio All-Stars manager Brian Yoshii, whose son Brysen played for this year's team. He added that other families likely racked up higher bills than he did, since Little League Baseball pays only for the airfare and rooms of players and coaches.
The Little League stars from Waipio began their 4,803-mile journey to South Williamsport, Pa., July 28 with a 3-2 win over Maui. Three weeks later they defeated Southern California 4-1 for the right to represent the Western Region in the Little League World Series.
With a packed schedule of games and travel, the team had very little time to do any fundraising before heading to the Mainland.
"We had maybe a week between winning the state championship and going to San Bernadino, so the only fundraising we did was the fish-netting fundraiser," said Yoshii, whose team was able to raise about $4,000 prior to heading to the West Coast.
Waipio won the U.S. title Aug. 28 with a 10-0 shutout victory over Pearland, Texas, before falling to Japan 4-1 the next day.
Though they missed the chance to win Hawaii's third world title in six years, their performance and sportsmanship received high praise from everyone.
"In their third trip to the Little League World Series, the Waipio All-Stars exhibited tremendous discipline, unrelenting determination, teamwork and sportsman-ship," said Gov. Linda Lingle. "They taught all of us a lesson about persistence, as well as how to have fun while working together toward a common goal."
To help offset these costs, fundraising accounts have been established for the families of Hawaii's national champs. Tax deductible donations can be sent to the Hawaii's Children's Foundation c/o Clear Channel Communications, 650 Iwilei Road, Suite 400, Honolulu HI, 96817. Please note on the check the donation is for the Waipio Little League.
Another way to donate is at First Hawaiian Bank. The bank has set up the "Yes We Care" fund to raise money for the families and has donated the first $5,000 to the cause. Contributions made payable to "Waipio Little League Champions" will be taken until Sept. 17 at any FHB location.
"What these young people and coaches have accomplished has made the entire state proud," said bank chairman and CEO Don Horner. "It is our hope that the proceeds from the 'Yes We Care' fund will assist the parents of the players, many of whom had been on the Mainland since early August."
Most Recent Comment(s):