For Some Kids, Education Really Pays
Wednesday - July 16, 2008
E-mail this story | Print this page | Comments (0) | Archive | RSS
|
Share

Del.icio.us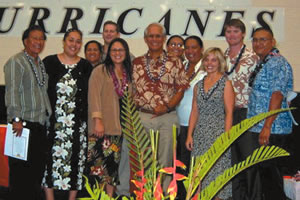 On hand to honor the 239 graduates of the About Face!, Community All-Stars and SMART Moves programs are (from left) Cal Higa, Tele Fuatai, Mapuana Tector, Jeffery Schaefer, Puamamo Wa'a, state Sen. Mike Gabbard, Monalisa Siofele, Lehua Ka'auwai-Krueger, Gina Hood, Dean Blandford and Antonio Benavides. The ceremony took place June 26 at Kapolei High School. Photo by Erica Moon.
Last month, 239 graduates were honored for completing Paxen Group's About Face!, Community All-Stars and SMART Moves programs.
Similar to various educational institutions, all of the programs target low-income youths and young adults by providing career counseling, workshops, financial education and more. The only difference between these programs and traditional schools: Students get paid for showing up.
"We're not school; we actually pay the students like a normal work schedule," said Dean Blandford, Paxen Group's Oahu program manager. "We teach them how to write checks, job search and even how to fill out W-4 forms."
About Face! runs like a business, paying students between $15 and $30 a day - after they complete an application process and abide by the rules - to participate in a 16-session after-school program for13- to 19-year-olds. They teach financial planning, how to plan meals and so on. Blandford explained the programs are hands-on and meant to give teens a better understanding of some life skills not taught in school.
"The Community All-Stars program is similar but with more of a work-oriented focus, teaching computer literacy, how to fill out job applications and more. It's like a normal job," he said. "You cannot be late - we have warning systems in place and rules that must be followed."
Blandford also mentioned one module that allows participants to create and run their own businesses and to compete with each other to see who has the better product.
"The programs are very activity-based," he said. "Rather than just have the kids sit there in a classroom, they actually are doing (something)."
The SMART Moves program is geared toward providing information on the dangers of peer pressure, drugs, alcohol and early sexual activity.
Since its inception on Oahu in 2007, the Florida-based Paxen Group has had about 1,500 graduates from its programs. The organization began on Kauai and has since moved to Maui, the Big Island and the Leeward side of Oahu.
"It's a very unique program," said Blandford. "All the curriculum we teach they keep as well."
For more information on the organization, visit www.paxen.com or call Monalisa Siofele at 265 3253, Arviella Benavides at 330-1514 or 682-4969 for the main office.
Most Recent Comment(s):